What you can't miss …
We have carried out a selection of the documents, news and calls with more success of our web page in the month of January in both versions, Spanish and English. Choosing is not always an easy task and even more so if there is a great variety. For this reason, the European Documentation Centre in Almeria provides you with access to publications, news and calls for proposals, offering you the possibility of making queries in sections and thematic blocks.
Here you can find the results:
SPANISH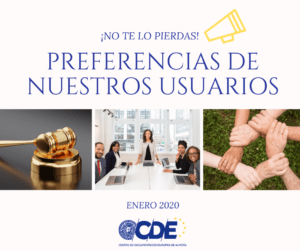 MOST CONSULTED DOCUMENTS
The interest of our readers in Spanish, on this occasion, has focused on law and justice, both in the Court of Justice and in the European Court of Human Rights cases. The social and cultural diversity and the challenge presented by social cohesion have also been present in the interests of our users.
Case- C-450/18 WA / INSS (Supplement for mothers). Judgment of the Court of Justice (First Chamber) of December 12, 2019
Consolidated versions of the Treaty on European Union and the Treaty on the Functioning of the European Union
MOST VIEWED NEWS
As for the most visited news, we find that research and health are among the top positions. Here you have the first five:
MOST CONSULTED CALLS
This section is characterized by the great interest of our users in volunteering and doctoral and postdoctoral scholarships among others.
MOST VIEWED NEWS
As for the most consulted news on the website in English, we note that our users have mainly taken an interest in news regarding the Coronavirus, artificial intelligence applied to air safety and irregular migration.
MOST CONSULTED CALL
Finally, we observe that some calls are similar to those of the users of the page in Spanish, and that, in addition, they were already among the preferences of December.
During the month of January, the countries that have visited our website the most, both in its Spanish and English versions and according to the number of users and permanence on the website, were:
Spain                                              6. Germany
France                                            7. Italy
Ireland                                           8. Belgium
Mexico                                           9. U.K
U.S.A.                                             10. Colombia
The number of users who visited the web site in January has been  3 848, an increase of 1 050 usuarios compared to Decdmber, and 12 313 page views  with an increase of 3 392 page views.
Whatever your preferences, you can find publications, news and calls related to very diverse topics on our website in Spanish and English.
As always, the whole team wants to thank those who accompany us every day and those who are about to do it !!