The new EU Single Market Bulletin No. 10 is now available!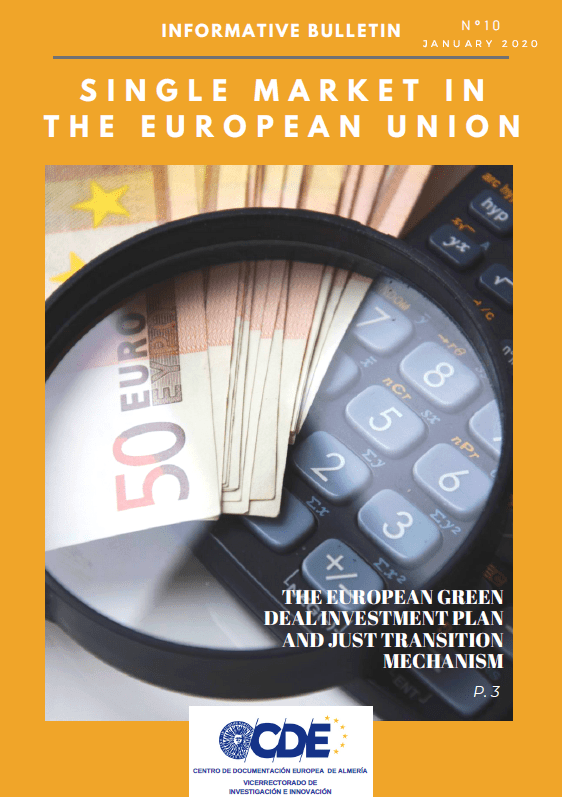 In this January edition, we can highlight news such as The European Green Deal Investment Plan and Just Transition Mechanism; EIB and BBVA provide €600m to support SMEs or Digitalisation – a key challenge for SMEs in the Mediterranean region.
Below, you can consult various statistics on the subject of Single Market, among which we highlight Professor of Business Administration specializing in Entrepreneurship or Traineeship at the European Court of Auditors.
You will also find a compilation of the latest publications divied in topics such as economic affairs, financial affairs, employment in the EU, oportunities and challenges for SMEs, digital economy and digital money. In this section you can find publications such as Europe is Back. Economic, Financial, Social and Technological trends in a changing world; The impact od figitalisation on the monetary system. Monetary dialogue papers, December 2019; Annual report on European SMEs 2018/2019. Research & development and innovation by SMEs or The euro area. Report – Study.
In this section you can find publications such as European economic forecast. Autumn 2019 or audiovisual material such as the video ¿Sabes cuánto gastan los europeos en transportarse?.
More Information
EU Single Market Informative Bulletin No. 10