The new R+I Bulletin No. 10 is now available!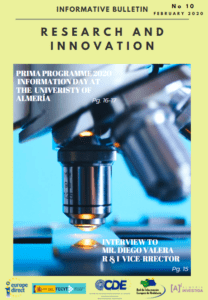 This new edition summarises all the European Union's activity in the field of R+I over the last months. The bulletin is structured into News; Calls and Awards; Statistics and Infographics; Recommended bibliography; and finally Magazines and periodicals and Media Collection.
In this February edition we can highlight the presentation of the PRIMA 2020 call at the University of Almería and the interview to D. Diego Luis Valera Martínez, Vice-rector for Research and Innovation. Other news which has a huge impact are: Artificial intelligence presents new challenges for the EU, CryoSat brings us closer to understanding what happens in the Antarctica's biggest glacier and  The EU Interreg programme celebrates 30 years of bringing citizens closer together, .
Moreover, in this bulletin you can access various calls related to research and innovation, such as internships and the H2020 programme, amongst others. We highlight: Remunerated internship at ENISA, H2020:AI for the smart hospital of the future, and PRIMA.
After that section you can find different statistics and infographics related to R+I like Electricity prices over the first half 2019, the future of Agriculture in the EU and Women in science and technology.
Furthermore, we also provide a compilation of the latest publications divided into topics, which are European Green Deal, marine pollution, fishing industry, transition towards sustainability, innovation in transport and health in the EU.
Finally, in the section of Magazines and Media Collection you can enjoy material, such as the number 89 of the magazine Research*eu or audiovisual material such as the video Solar Orbiter launch highlights.
More information