The new R+I Newsletter (No. 8) is now available!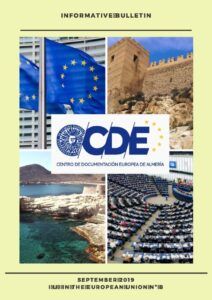 This bulletin summarises all the European Union's activity in the field of R+I in recent months. The bulletin is structured into News; Calls and Awards; Statistics; Documentation; and finally Magazines and Media Collection.
In this September edition, we can highlight news such as Project VicInAqua: Making Fish Farming in Eastern Africa's Lake Victoria Sustainable; Still No Cure FOR XYLELLA PLAGUE Control Measures Crucial or The EU Invests 50 Million Euros to Create A Network of Centres of Excellence in Artificial Intelligence.
Below, you can consult various statistics on the subject of R+I, among which we highlight Share of women researchers, by sectors of performance or Farms and farmland in the European Union – statistics, among others.
You will also find a compilation of the latest publications divied in topics such as Fishing industry; Environmental Impact; Public Health; Energetic Resources; Space Research; Food Industry; Scientific Researfh and Apiculture. in this section you can find publications such as A European Strategy for Plastics in the Circular Econonomy and Regional Dimension: Study;Tuberculosis Surveillance and Monitoring In Europe 2019: 2017 Data o Biofuels From Algae Technology Options, Energy Balance And Ghg Emissions.
Finally, in the section of Magazines and Media Library you can enjoy audiovisual material, such as The Transition to Circular Cities, or periodical publications related to R+I, such as CORDIS results pack on the brain.
More information