The International Energy Agency and the European Commission outlined a range of simple steps that people can take to reduce their energy use and save money, and that would save enough oil to fill 120 super tankers and enough natural gas to heat almost 20 million homes if adopted by all EU citizens.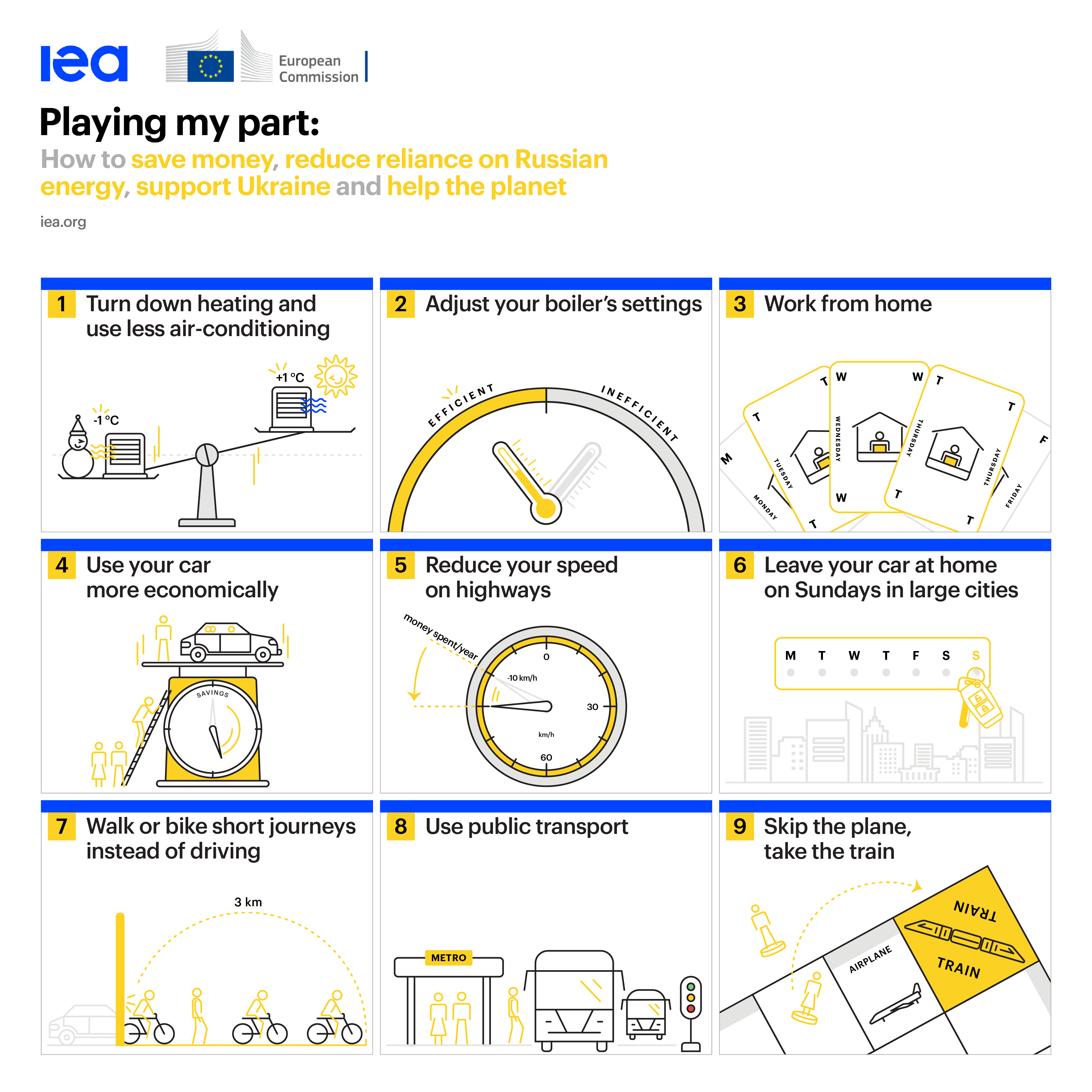 These actions, designed to help Ukraine by cutting the EU's reliance on Russian fuel, and also to reduce greenhouse gas emissions, were presented and discussed by IEA Executive Director Fatih Birol and European Commission Director-General for Energy Ditte Juul Jørgensen during a live-streamed virtual event today with a host of figures from government and civil society.
People across Europe have helped Ukraine by making donations or aiding refugees directly, and many would like to do more. Most households are also experiencing higher energy bills because of the energy crisis, exacerbated by the war. Using less energy is not only an immediate way for EU citizens to reduce their bills, but it also supports Ukraine by reducing the need for Russian oil and gas, thereby helping to reduce the revenue streams funding the invasion.
The recommended steps
Turn down heating and use less air-conditioning.
Adjutst your boiler's settings.
Work from home.
Use your car more economically.
Reduce your speed on high ways.
Leave your car at home on Sundays in large cities.
Walk or bike short journeys instead of driving.
Use public transport.
Skip the plane, take the train.
According to the plan's findings, turning down the thermostat by just 1 °C would save around 7% of the energy used for heating, while setting an air conditioner 1 °C warmer could reduce the amount of electricity used by up to 10%. With an average one-way car commute in the EU of 15 kilometres, working at home three days a week could reduce household fuel bills by around €35 a month, even after taking increased energy use at home into account. As the average car in the EU clocks up about 13 000 kilometres a year, reducing cruising speed on motorways by 10 kilometres an hour could cut fuel bills by an average of around €60 a year.
The recommended steps involve turning down heating and using less air conditioning, working from home when possible to avoid commuting, and car-pooling or travelling by public transport when available. Employers have a role to play to encourage teleworking and train journeys instead of short-haul flights. Governments can play a role by providing financial incentives through the reduction of fares for trains, buses and micro-mobility and the support to the installation of solar panels, the improvement of home insulation and the switch to other fuels for heating.
More information: European Commission