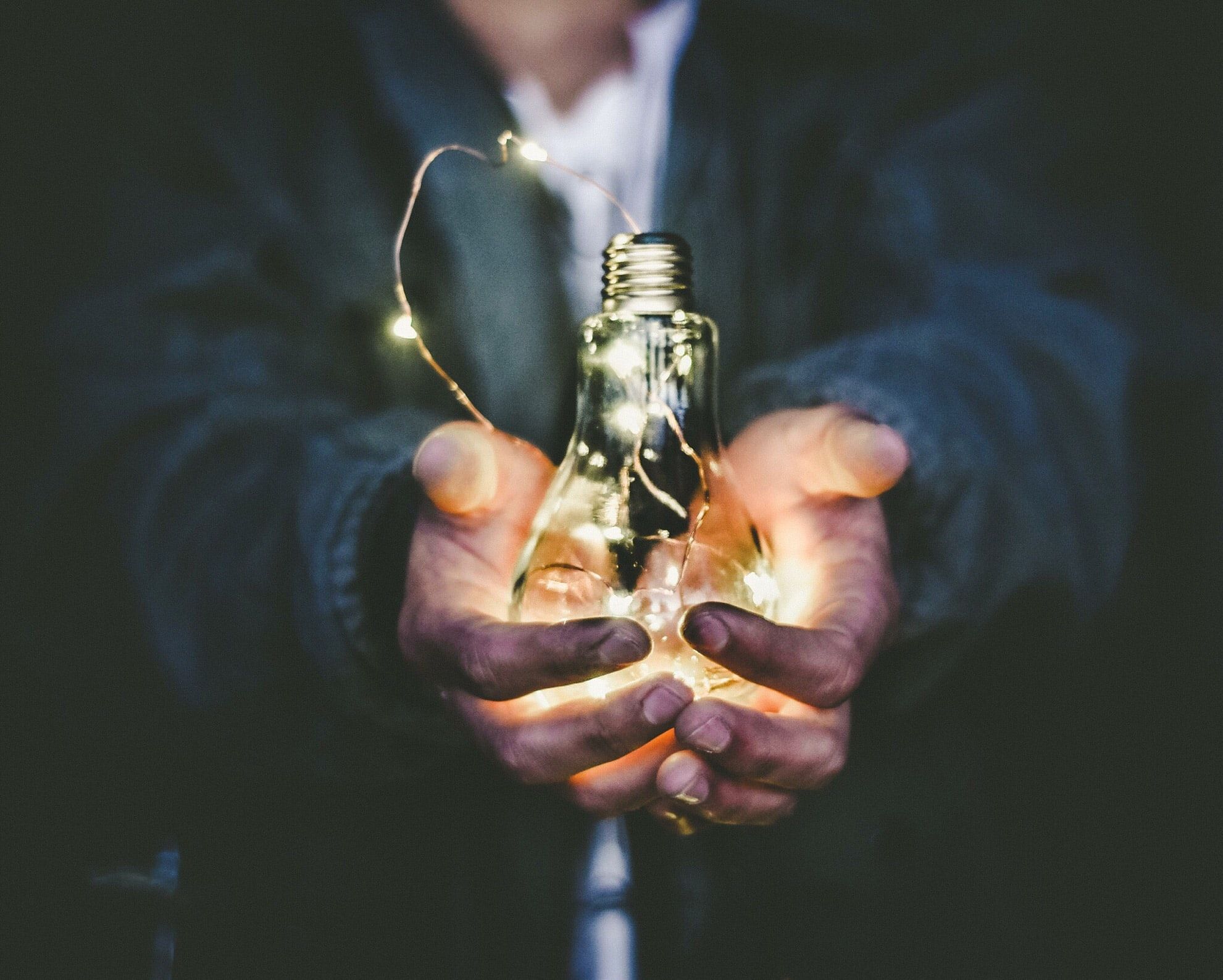 The EU has struggled to reduce its energy consumption and was at risk of missing its 2020 energy efficiency target. In 2019, EU primary energy consumption (for all energy uses) decreased for the second consecutive year. Final energy consumption (by end users) saw only a modest decline, hampered by growing energy use in transport. Pandemic COVID-19 is expected to have significantly reduced energy consumption by 2020. However, substantial changes in the energy system are still needed to achieve the EU's energy and climate neutrality targets for 2050.
The graph below shows the evolution of primary consumption (green line) and final consumption (blue line) in the European Union, as well as the targets set for 2020 and 2030, with the green dot being the target for primary consumption and the blue dot the target for final consumption.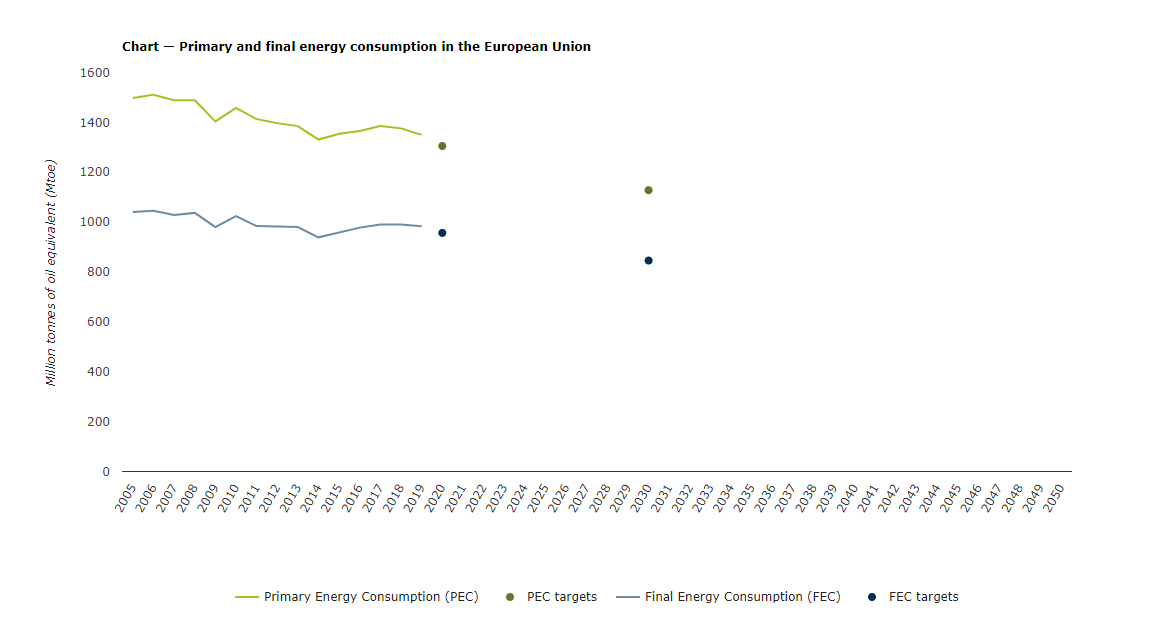 EU final energy consumption (FEC) experienced a slight decrease of 0.6% between 2018 and 2019, according to Eurostat's Energy Balances (Eurostat, 2021). This represents an improvement after 5 years of increase and stagnation. However, the FEC value reached in 2019 (983 million tonnes of oil equivalent (Mtoe)) remains comparable to 2011 levels, higher than the minimum reached in 2014.
The reduction in FEC recorded in industry (3.3 Mtoe) and buildings (4.5 Mtoe) in 2019 was partially offset by an increase in the transport sector (2.8 Mtoe), similar to the pattern observed throughout the time series. Energy efficiency measures, combined with a shift towards a more service-oriented economy, are driving a decline in consumption in industry. In buildings, energy efficiency improvements outweigh the increase in the number of appliances and floor space. However, higher energy consumption in transportation is holding back overall progress.
Primary energy consumption (PEC) shows a long-term trend similar to that of FEC, but with a longer and steeper downward trend. Between 2018 and 2019, PEC decreased by 1.9%, driven by a formidable 20% drop in solid fossil fuel consumption. Replacing fossil fuels with renewables in electricity generation can reduce the PEC, and the share of renewable energy in the EU has doubled since 2005. Other factors have influenced primary energy demand, such as energy saving measures, improvements in transformation, economic activity and climate change.
These historical trends in energy consumption suggest that the EU will not meet its energy efficiency targets in 2020. The PEC in 2019 was still 3.3% above the 2020 target and the SCF was 2.7% above. However, the measures taken in response to the COVID-19 pandemic have had a profound effect on the European economy and are expected to result in a reduction in energy consumption by 2020. In the absence of complete statistics for 2020, it is not yet known whether the EU met its energy efficiency target of reducing energy consumption by 20% from projected 2020 levels. Even if it does, COVID-related reductions are likely to be short-lived unless backed by structural changes. Member states need to do more to curb energy consumption if the EU is to meet its current target of 32.5% by 2030 and the overall goal of carbon neutrality by 2050.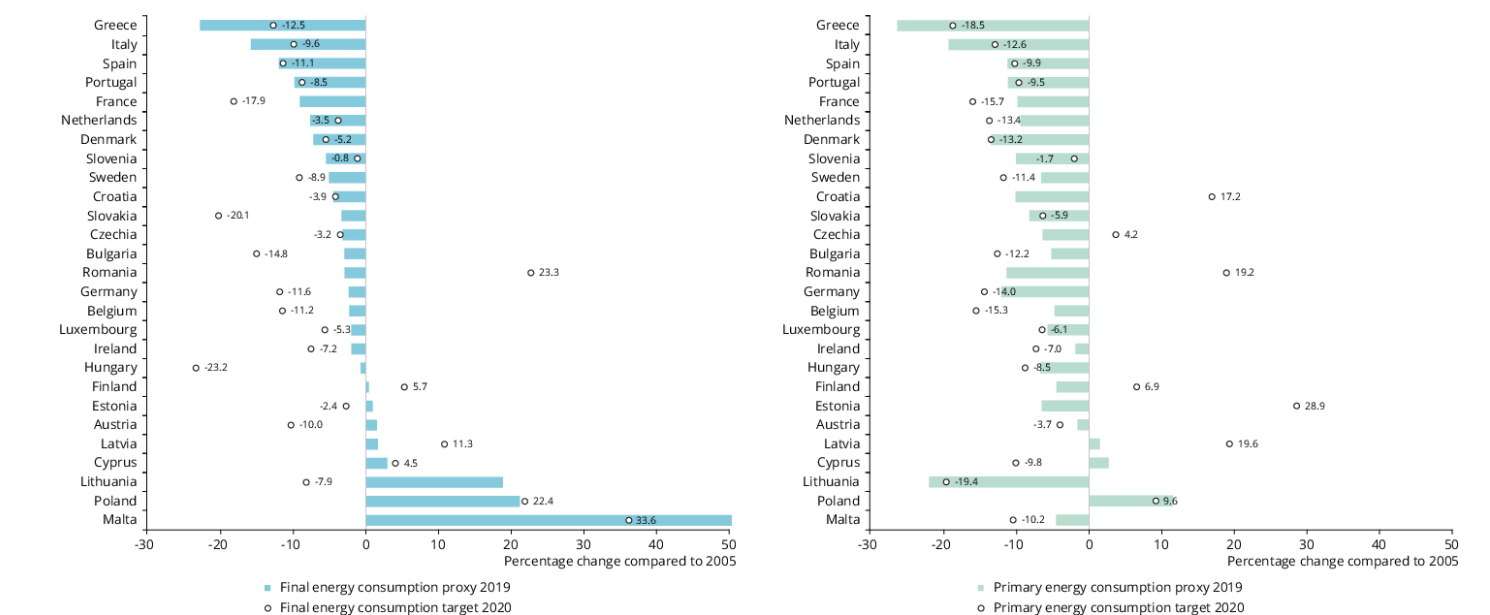 Want to know more about energy in Europe? Check out the infographic below!
More information