MEPs urged the EU to better counteract Russia's energy dependence and quickly secure cleaner and more affordable energy for all.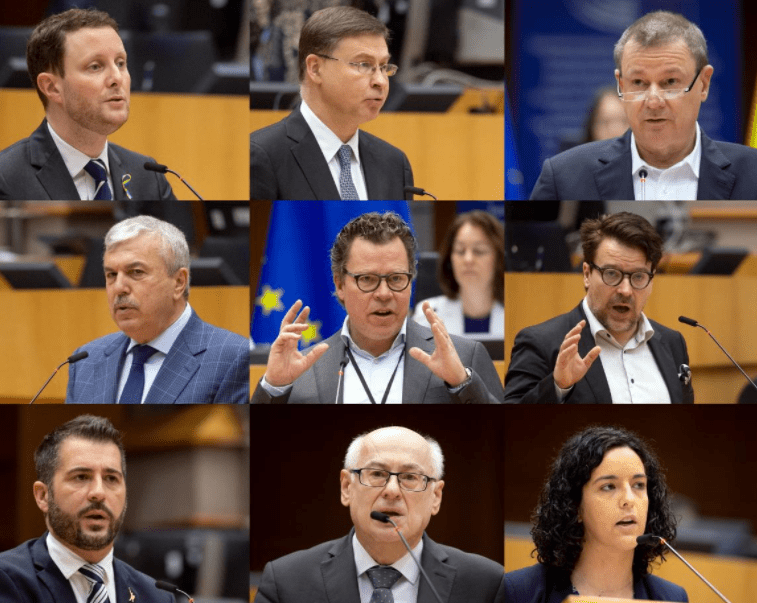 In the wake of the Russian invasion of Ukraine and the resulting rise in energy prices, MEPs in a plenary debate on March 24 put questions to the Council and the Commission on the Union's plans to counter dependence on Russian fossil fuels, in particular oil, natural gas and coal.
The European Parliament held the debate after the Commission announced the "REPowerEU" plan which aims to reduce the EU's demand for Russian gas by two-thirds by the end of the year and make Europe independent of Russian fossil fuels well before 2030. In addition, the proposal aims to rebuild gas reserves for the coming winter and ensure affordable, secure and sustainable energy supplies.
European Commission Vice-President Valdis Dombrovskis presented the plan to the plenary. "We must be in charge of our own energy future and that means we cannot let any third country destabilize our markets or influence our energy decisions," he explained.
The French Secretary of State for European Affairs, Clément Beaune, representing the Council, stressed the importance of European energy independence and ecological transition. "We need Europe to be independent of fossil fuel imports from Russia. […] We need to accelerate our efforts to increase European independence from fossil fuels, starting obviously with gas. Diversification of sources, transition to clean and green forms of energy is essential," he said.
German MEP Markus Pieper of the European People's Party said that to mitigate high energy prices, EU countries should lower energy taxation and end dependence on Russian fuels. "We need to decouple electricity prices from gas prices," he said and warned that "we cannot deregulate the market completely because it is easier to dispense with the free market economy than to restore free competition."
Romanian Socialist MEP Dan NICA said that the "REPowerEU" plan is "better than nothing" and supported the proposal on mandatory gas storage. However, he expressed doubts that it will be in place in time for the winter and criticized speculation on the energy markets. In addition, he called for a windfall profits tax. "It is unacceptable that in the EU we have countries like Romania where someone can sell energy at 10 times its cost," he said.
Danish MEP Morten Petersen of the Renew group said that "it is time for things to change". "We need to save energy in industry, in buildings…. We need to do away with thermostats and maybe put on an extra sweater and we need to run an awareness campaign so that citizens understand that it pays to save energy," he argued. "We need to accelerate renewables, not only on land but also offshore. These new energy sources can develop an interest in Europe. We have to make sure that we are creating the energy that the system consumes," he added.
Greens/EFA member Ville Niinistö from Finland called for joint procurement at the European level, better coordination, cooperation and solidarity among member states to act in the face of high energy prices. "But we also need to accelerate our investments in renewables and energy efficiency," he said. The MEP urged EU countries "to do more to support vulnerable households, using the flexibility of the existing framework, for example through direct payments or vouchers." "This is urgently needed for those who cannot pay their energy bills," he stressed.
Paolo Borchia (ID, Italy) pointed out that, although it is a good idea to have a certain amount of gas in storage, this will further increase prices. "Over the years, we have done everything we could to make the EU too dependent on energy imports; now, it will be households and businesses who will pay the price," he explained.
Zdzisław Krasnodębski (ECR, Poland) said that the Commission's proposals on reducing Russian dependence and faster development of renewables are going in the right direction, but drew attention to the discrepancy between plans and reality. "Now there are plans for joint gas purchasing, regulation of gas storage facilities and faster transformation to renewable energy sources. But the reality is different: right now there is a race to buy fossil fuels," he said.
"The Commission has finally realized that the energy market is absurd, as it only leads to price hikes for households and huge profits for companies," said French MEP Manon Aubry of The Left. "Why do we have to wait until the end of winter to deal with this issue when prices went up even before the Ukrainian war?" she asked.
Source: European Parliament