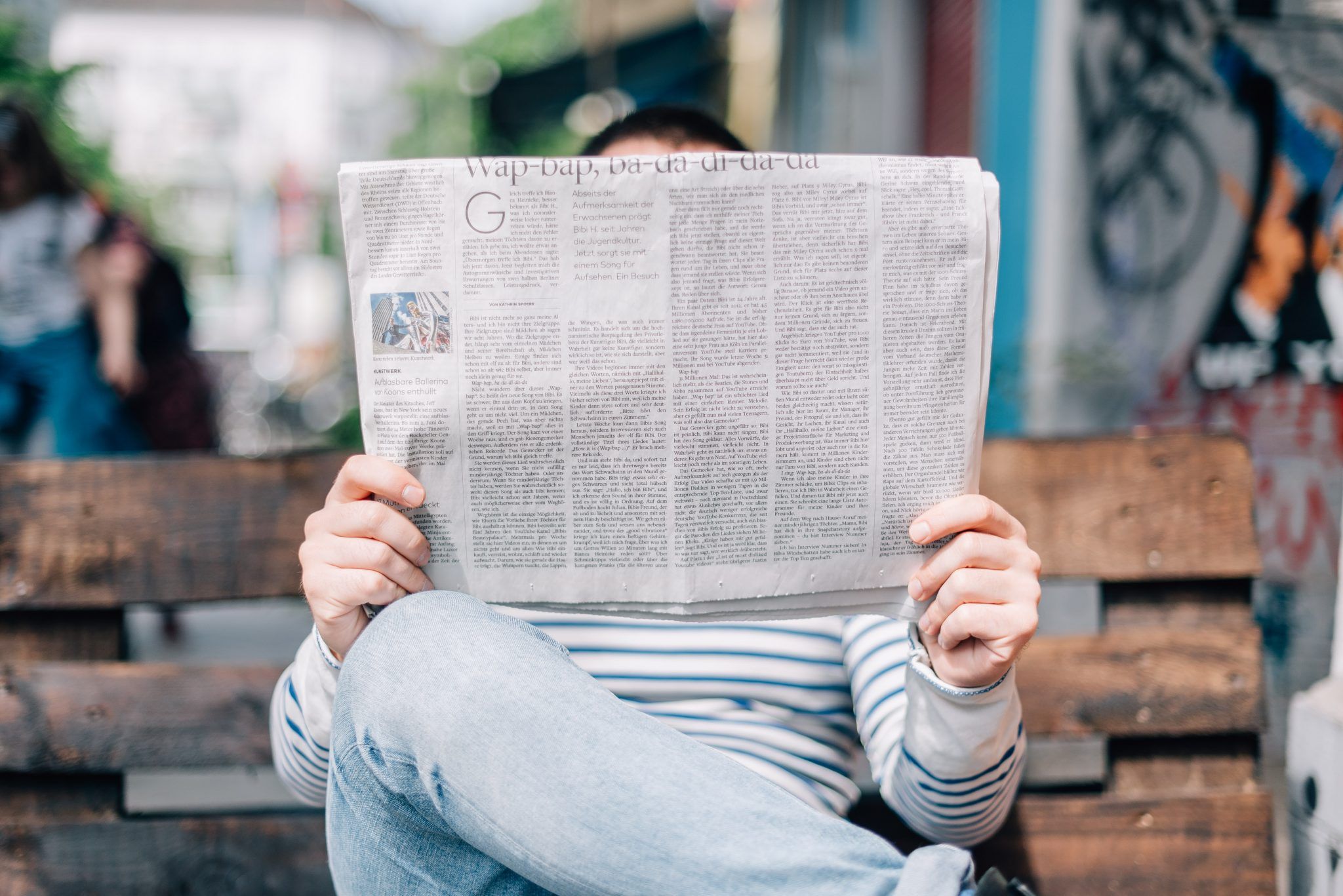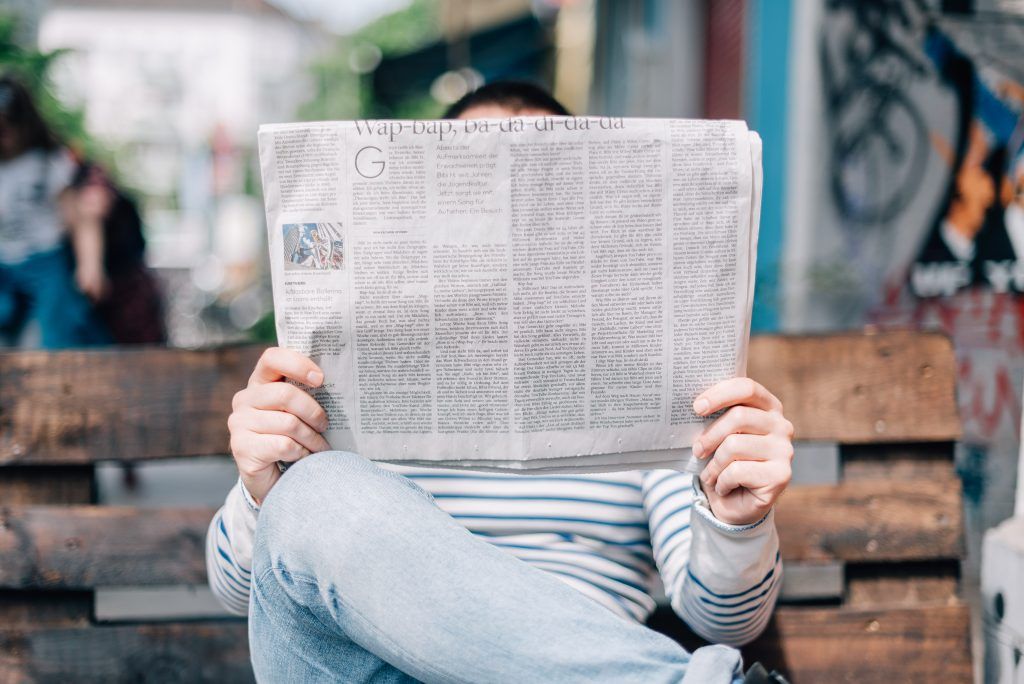 In 2021, 47% of all people aged 16-74 years in the EU saw untrue or doubtful information on news websites or social media during the 3 months prior to the survey. However, only around a quarter (23%) of people verified the truthfulness of the information or content.
This information comes from data on ICT usage in households and by individuals published by Eurostat today. Other interesting findings can be found in the more detailed Statistics Explained article.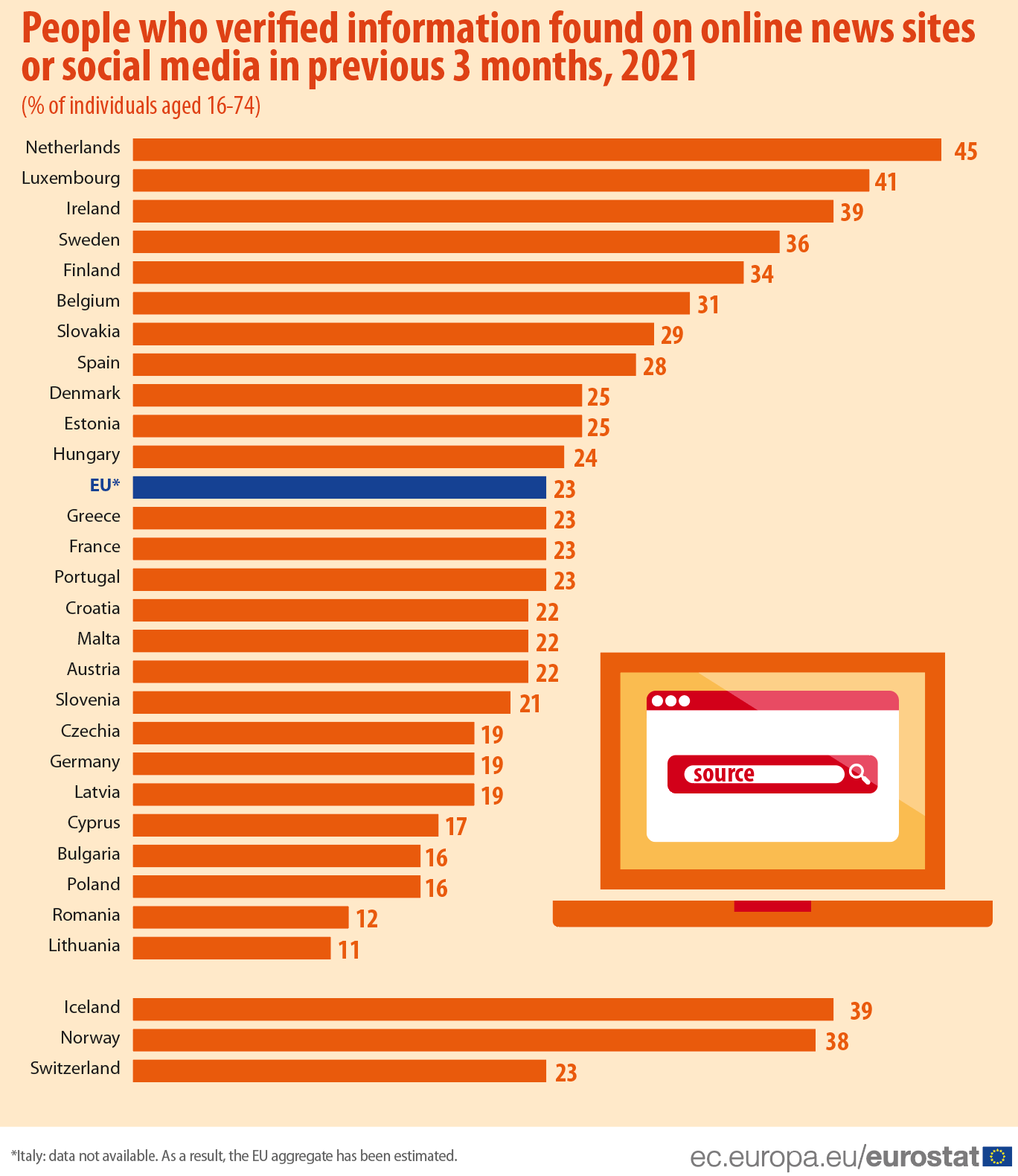 The share of people aged 16-74 years old who verified information found on online news sites or social media in the previous 3 months was largest in the Netherlands (45%), followed by Luxembourg (41%) and Ireland (39%). However, the smallest share was recorded in Lithuania (11%), followed by Romania (12%) and Poland (16%).
In the EU, people aged 16-74 years old primarily checked if the information was truthful by checking the sources or finding other information on the internet (20%). People also checked information by discussing it with other persons offline, or using sources not on the internet (12%). The least popular method was checking by following or taking part in an internet discussion regarding the information (7%).
This article presents recent statistical data on several different aspects of the digital economy and society in the European Union (EU), focusing on the availability of information and communication technologies (ICTs) and their use by individuals and within households.
ICTs affect people's everyday lives in many ways, both at work and in the home, for example, when communicating or buying goods or services online. EU policies range from regulating entire areas such as e-commerce to trying to protect an individual's privacy. The development of the information society is therefore regarded by many as critical for providing the necessary conditions to promote a modern and competitive economy.
Internet access
ICTs have become widely available to the general public, both in terms of accessibility as well as cost. A boundary was crossed in 2007, when a majority (53 %) of households in the EU-27 had internet access. This proportion continued to increase, passing three quarters in 2012 and four fifths in 2014. By 2021, the share of EU households with internet access had risen to 92 %, some 20 percentage points higher than in 2011.
Widespread and affordable broadband access is one of the means of promoting a knowledge-based and informed society. Broadband was by far the most common form of internet access in all EU Member States: it was used by 90 % of the households in the EU in 2021, 25 percentage points higher than the share recorded in 2011 (65 %).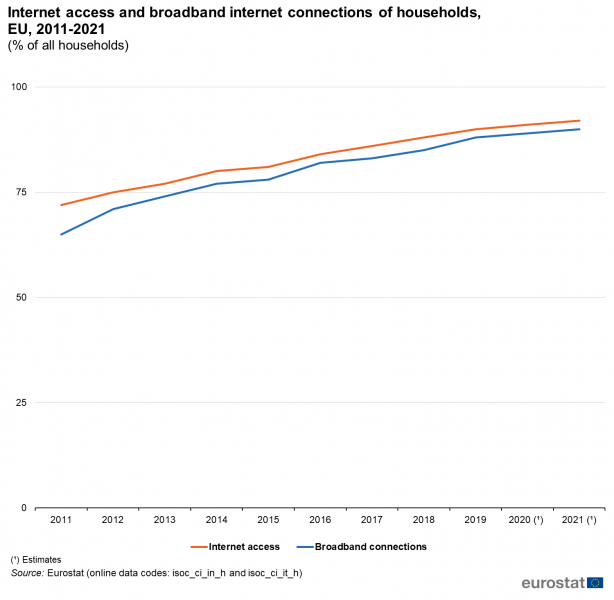 The highest proportion (99 %) of households with internet access in 2021 was recorded in Luxembourg and in the Netherlands, while also Finland, Ireland, Denmark, Spain and Austria reported that 95 % or more of households had internet access. The lowest rate of internet access among the EU Member States was observed in Bulgaria (84 %). However, Bulgaria — together with Cyprus, Romania, Greece, Slovenia and Lithuania — recorded a rapid expansion in its proportion of households with internet access, with increases within the range of 15-20 percentage points between 2016 and 2021. Unsurprisingly, relative stability was recorded in several Member States where household internet access was already close to saturation in 2016, such as Luxembourg, the Netherlands and Denmark.
Internet usage
As of the beginning of 2021, almost nine out of ten (89 %) individuals in the EU, aged between 16 and 74 years, used the internet (at least once within the three months prior to the survey date). This share was at least 95 % in six countries, with the highest values recorded in Denmark, Ireland and Luxembourg (all 99 %), followed by Finland and Sweden (both 97 %). The lowest share was recorded in Bulgaria (75 %).
The proportion of the EU's population that had never used the internet was 8 % in 2021 (one percentage point lower than the year before), with this share falling to around one third of its level in 2011 (when it had stood at 26 %).
In 2021, four fifths (80 %) of individuals in the EU accessed the internet on a daily basis with a further 7 % using it at least once a week (but not daily). As such, 87 % of individuals were regular internet users (at least weekly) of the internet. The proportion of daily internet users among all internet users (who had used the internet within the previous three months) averaged 90 % in the EU and ranged across the EU Member States from 82 % in Romania up to more than 90 % in eighteen Member States, peaking at 98 % in Cyprus, followed by the Netherlands (97 %), and Denmark, Ireland, Malta and Finland (all 96 %). Iceland (98 %) reported also a higher share of daily internet users among all internet users.
Privacy and protection of personal identity
Disparities between the EU Member States can be observed in the way internet users managed access to their personal information on the internet in 2021. Slightly less than three quarters (73 %) of EU internet users managed access to personal information over the internet, a share that ranged from just 56 % in Romania to 91 % in both Finland and the Netherlands. EU internet users did provide some kind of personal information online, many of them undertaking different actions to control access to this personal information on the internet. More than half (53 %) of all internet users refused to allow the use of personal information for advertising and just less than half (48 %) restricted access to their geographical location. Just two fifths (40 %) limited access to their profile or content on social networking sites. In addition, more than one third (39 %) of internet users read privacy policy statements before providing personal information.
Ordering or buying goods and services
The proportion of individuals aged 16 to 74 in the EU who ordered or bought goods or services over the internet for private use continued to rise: in 2021, it stood at 66 %, an increase of 15 percentage points when compared with 2016. More than three quarters of individuals in France, Germany and Finland ordered or bought goods or services over the internet in 2021 and this share reached at least four fifths in Luxembourg (81 %), Sweden and Ireland (both 87 %), the Netherlands (89 %) and at the top range, Denmark (91 %). By contrast, this proportion was the lowest in Romania (38 %) and Bulgaria (33 %).
Excluding the five EU Member States that reported a break in series — Ireland, Germany, Latvia, Luxembourg and Sweden — seventeen of the EU Member States had an increase of 15 percentage points or more between 2016 and 2021. The largest increase in the proportion of individuals who ordered or bought goods or services over the internet between 2016 and 2021 was observed in Slovenia (up 32 percentage points), Czechia (up 28 percentage points) followed by Hungary and Lithuania (both up 27 percentage points). However, the share of individuals ordering goods or services over the internet also rose at a relatively modest pace in Austria, Denmark and France (10 percentage points or less).
More information