Available now the first projections of the composition of the new European Parliament, in which the European People's Party would rise as the winner, and the results of the European elections in Spain, where PSOE wins with 32% of the votes.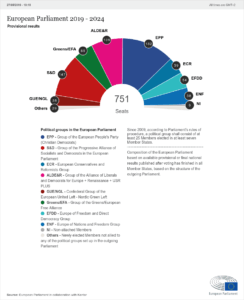 European results
The results of the 2019 European elections held this Sunday 26 May in Spain and much of Europe are already beginning to be revealed. The turnout in Europe has been close to 51%, which is a significant increase and the highest rate for the last twenty years. This counteracts the drop in participation in Portugal (around 30%), being the lowest in its democratic history.
As for the results, the first projections of the European Parliament indicate that the European People's Party has won the European elections with 178 seats; the Socialists  have obtained 153, somewhat below the polls. Thirdly, Alde-Reinassance, the product of the merger of the Liberals with the movement of Emmanuel Macron, which burst with 105 seats according to this exercise. And finally, in fourth place, Greens-EFA with 69 seats.
Currently, the political groups in the European Parliament are: European People's Party (EPP Goup), Progressive Alliance of Socialists and Democrats (S&D), European Conservatives and Reformists (ECR), Alliance of Liberals and Democrats for Europe (ALDE), European United Left/Nordic Green Left (GUE/NGL), The Greens/European Free Alliance (Greens-EFA) and Europe of Freedom and Direct Democracy (EFDD).
It highlights the rise of conservative and far-right parties in countries such as France, Italy, Poland or Belgium, while the Greens are experiencing a sustained rise throughout the EU (Germany, France …) reflected in the new projection of the European Parliament.
This new projection is based on:
Final results in seven countries: Croatia, Cyprus, Czechia, Finland, France, Germany, Slovakia
Provisional results in 19 countries: Austria, Belgium, Bulgaria, Denmark, Estonia, Greece, Hungary, Italy, Latvia, Lithuania, Luxemburg, Malta, Netherlands, Poland, Portugal, Romania, Slovenia, Spain, Sweden
National estimates from two countries: Ireland, UK
Results of the European elections in Spain
In Spain, the population has once again placed its trust in the PSOE fifteen years later, winning the European elections; and just as in 2004, with Josep Borrell at the head of the list. The PSOE wins 20 seats (seven more than in 2014), which will be 21 if the United Kingdom ends up leaving the EU. The PP ends up a little over 20%, with 12 seats (four less), while Citizens wins seven seats. The ultra-right VOX enters the European Parliament with 1.3 million votes and three seats. The nationalists have won six seats, with Junts per Catalunya, crowning themselves winners in this community.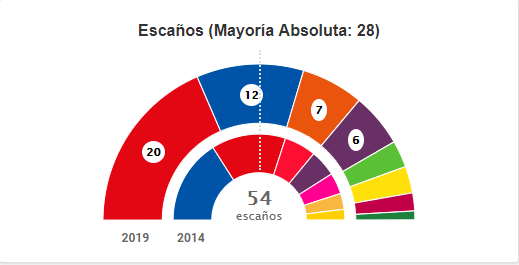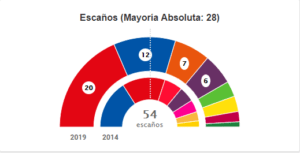 More information
Seat projections will continue to be updated and published on www.election-results.eu. There you will find national results, seats by political group and country, the breakdown by national parties and political groups, MEPs' gender balance or turnout. You will also be able to compare results, check majorities or upload your widget.