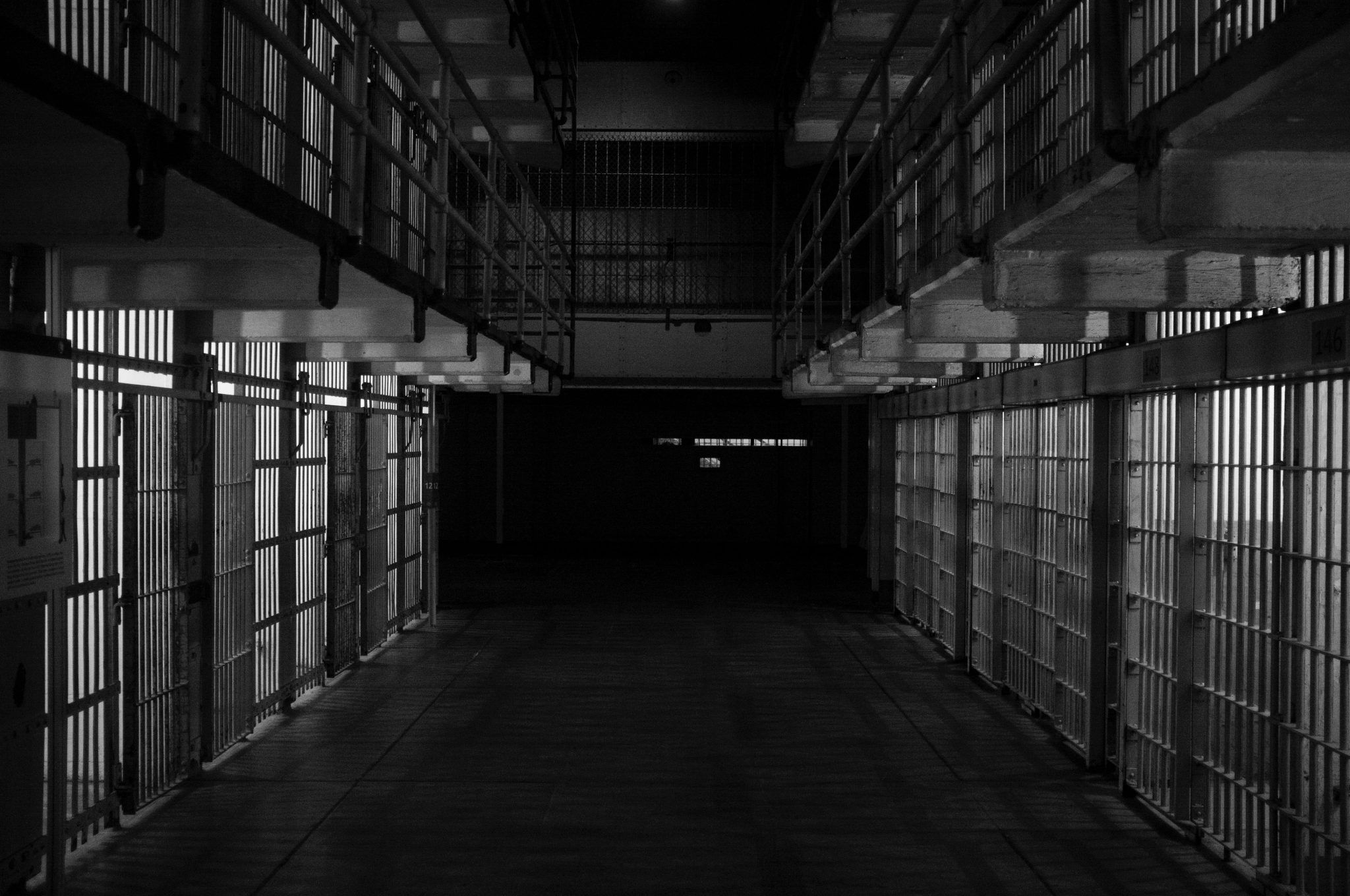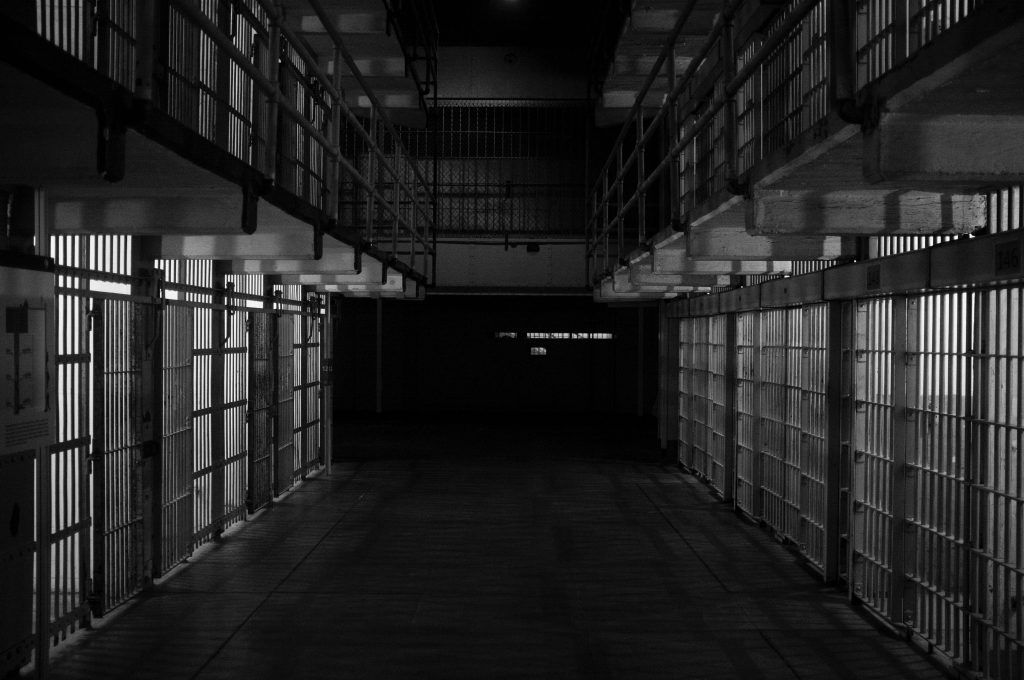 In 2021, there were 475 038 prisoners in the EU, equivalent to 106 prisoners per 100 000 people. The prisoner rate increased after a decline in 2020 (104 prisoners per 100 000 people) but remained the second-lowest figure since the turn of the century.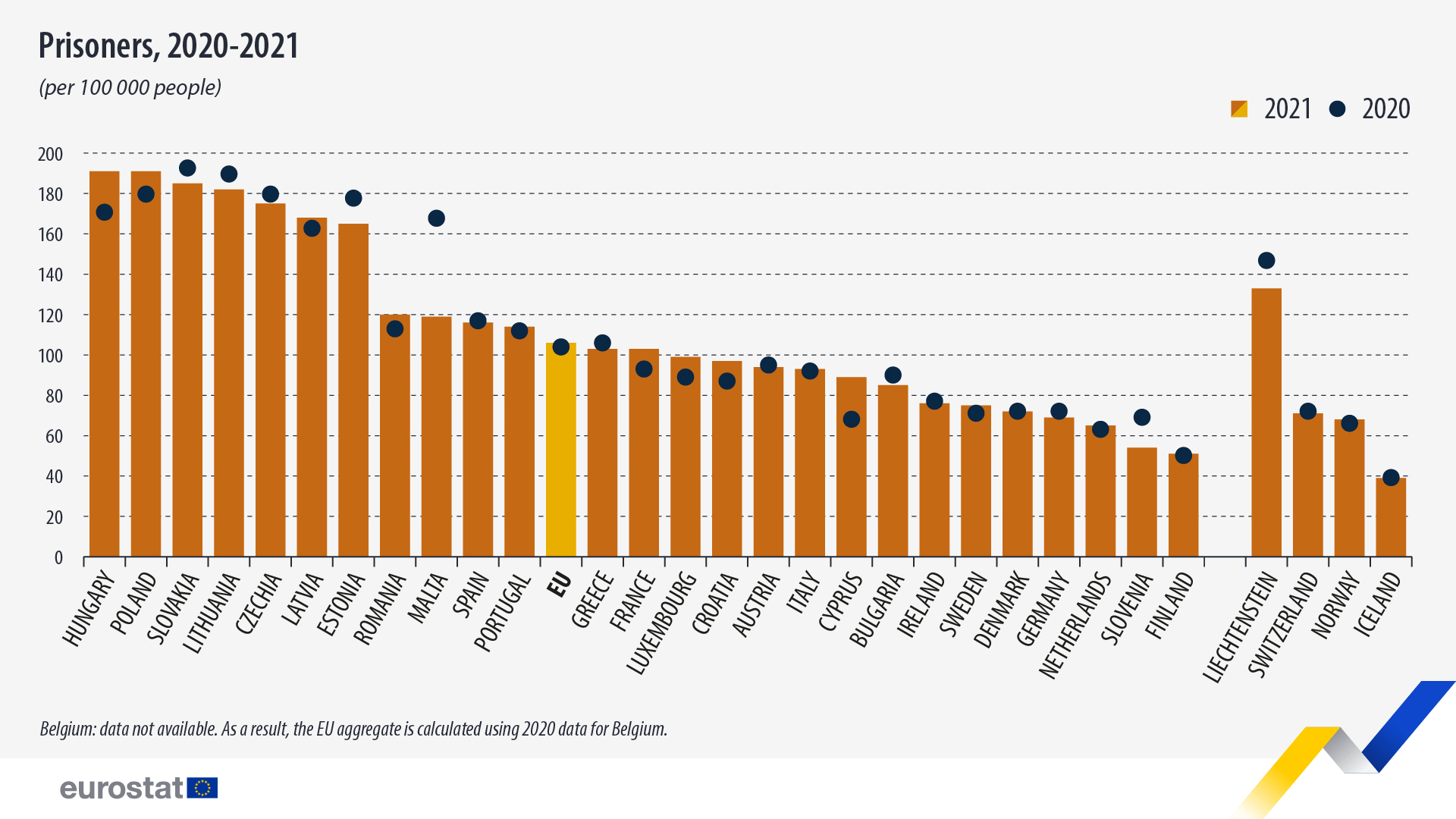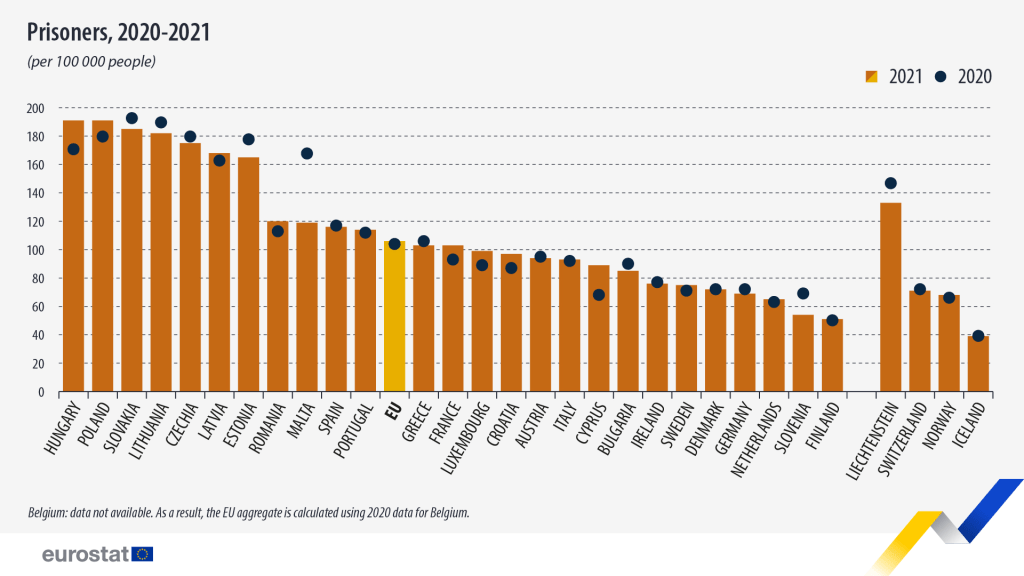 The highest prisoner rates per 100 000 people in 2021 were in Hungary and Poland (both 191), followed by Slovakia (185). The lowest rates were in Finland (51), Slovenia (54), and the Netherlands (65). In 14 out of the 26 EU countries that provided data, the prisoner rate increased compared with 2020.
Prison occupancy data are included in the article prison occupancy statistics. Prison staff data are presented in police, judicial and prison staff statistics. The compliance of countries with crime classification and counting methodologies is explained in the general and country metadata and in the police recorded crime metadata.
Eight EU countries experienced overcrowded cells in 2021
In 2021, 8 EU countries experienced overcrowded prison cells, while 17 countries had extra capacity. The prison occupancy rate is the number of prisoners relative to the official capacity (design capacity) of prisons, multiplied by 100. Overcrowding occurs when the occupancy rate exceeds 100, indicating that there are more prisoners in the prison than it was designed to hold.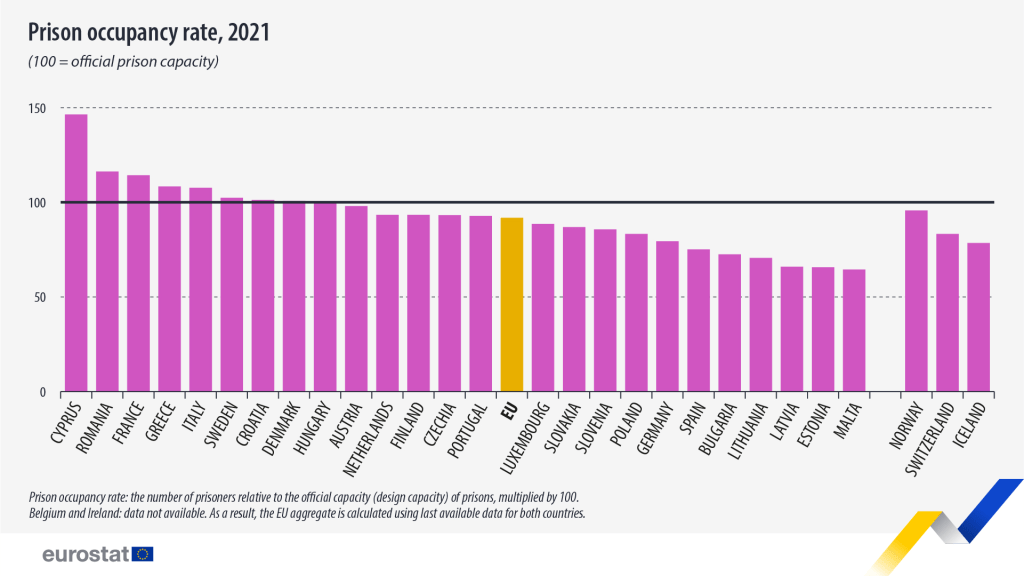 Overcrowding rates were observed in Cyprus (146), Romania (116), France (114), Greece and Italy (both 108), Sweden (102), Croatia, and Denmark (both 101). The lowest prison occupancy rates were recorded in Malta (65), Estonia, and Latvia (both 66). In 14 out of the 25 EU countries that provided data in 2021, the prison occupancy rate increased compared with 2020, when the decrease was likely due to COVID-19-related measures.
In 2021, one out of 19 adult prisoners were women
Since 2016 one out of 19 adult prisoners was female. As shown in Figure 3, the share of women in prisons increased from 2011 to 2019 and decreased slightly in 2020 and 2021. In the EU, the percentage of female adult prisoners was 5.0 % from 2010 to 2013, then increased to reach 5.4 % in 2019 and fell back to 5.3 % in 2020 and 2021. Compared with 2020, the number of prisoners slightly increased in 2021, by 2.8 % for men and 2.1 % for women.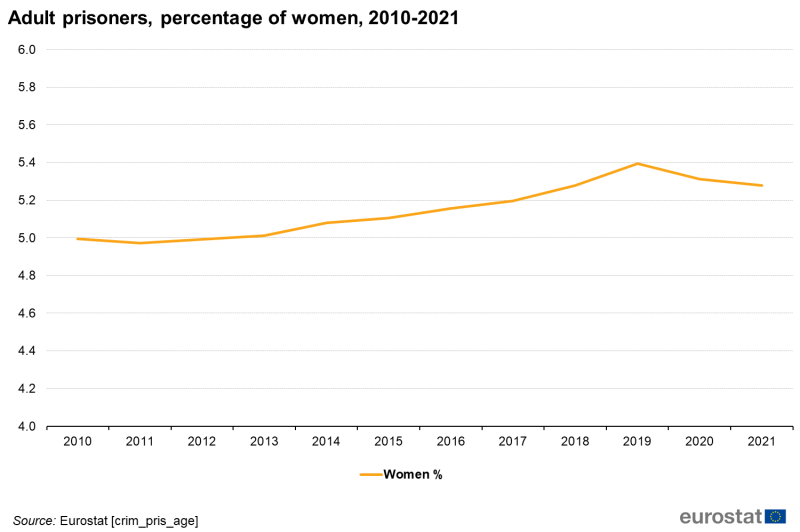 One in five prisoners were awaiting trial in 2021
In 2021, 18.7 % of prisoners were awaiting their final trial, this figure slightly decreased compared with the previous year (19.2 %). In 2021, the proportion of prisoners awaiting trial was the highest in Luxembourg (47.0 %), followed by Croatia (34.7 %) and Slovenia (33.1 %). The proportion of prisoners without conviction was much lower in Czechia (7.4 %), Romania (8.0 %) and Bulgaria (9.3 %). Figure 6 shows the 2020 and 2021 values. In 15 out of 25 countries that provided data for both periods, the share of unsentenced prisoners decreased in 2021.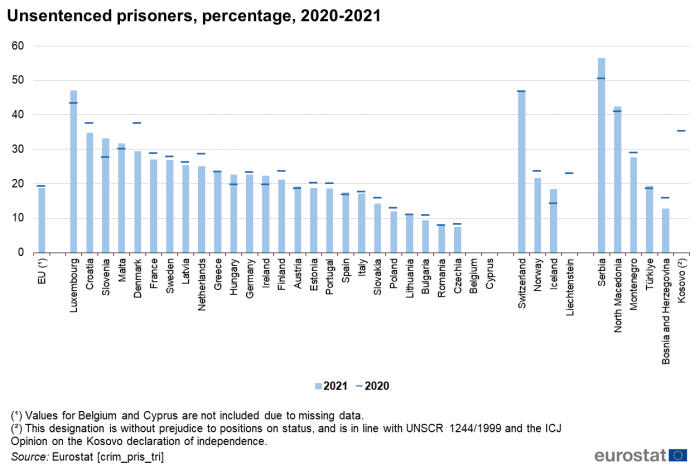 More information: Eurostat