Europe is moving towards a low-carbon energy future. 2020 was an important milestone, with the EU reaching its first three climate and energy targets, namely reducing greenhouse gas emissions by 20% compared to 1990 levels, increasing the share of renewable energy used to 20% and improving energy efficiency by 20%.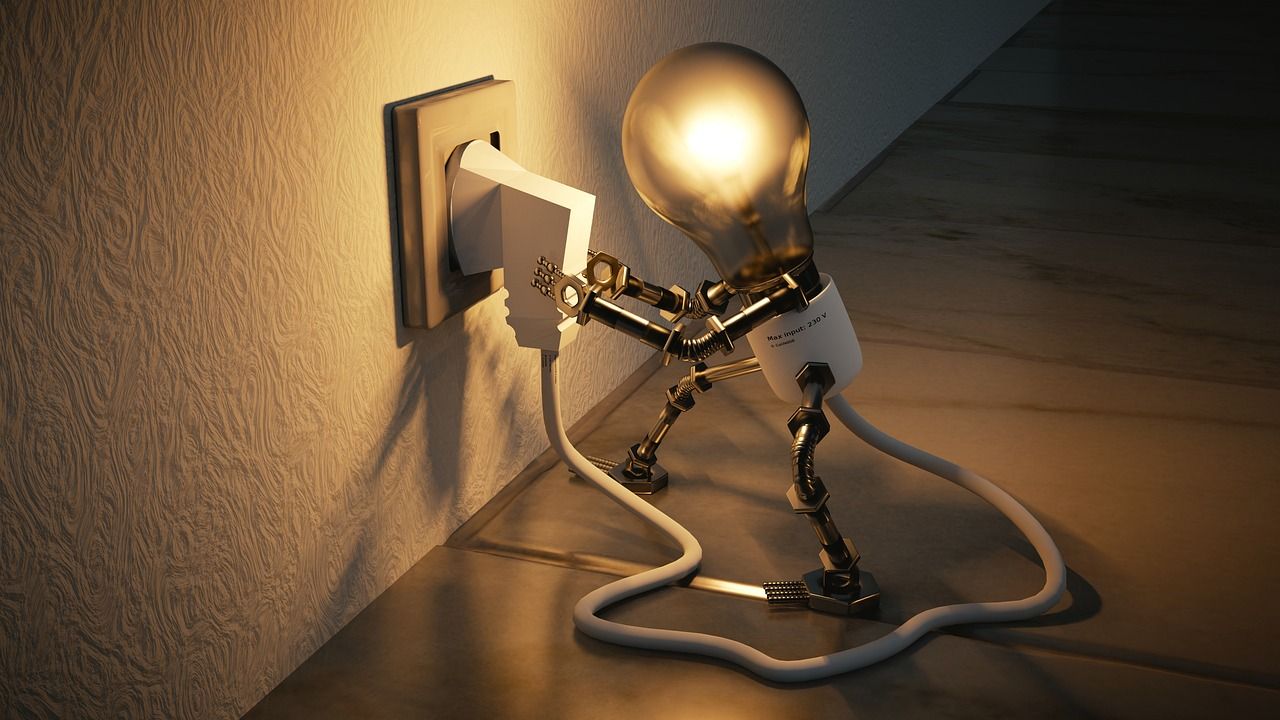 With the exception of the drop caused by the COVID-19 pandemic, Europe's steady emission reductions have been achieved thanks to sound climate policies, according to the EEA's latest "Trends and projections" assessment.
However, achieving the 2030 and 2050 targets will require EU Member States to be even more ambitious in their efforts. As part of the European Green Deal, the European Climate Act sets a new net reduction target of at least 55% by 2030 and a commitment to achieve climate neutrality, meaning that any residual emissions are offset by an equivalent amount of carbon dioxide removal by 2050. In addition, Russia's invasion of Ukraine has highlighted the need to move away from fossil fuels towards renewable and domestic sources that can ensure energy security.
The REPowerEU plan sets out a series of measures to rapidly reduce the EU's dependence on Russian fossil fuels, accelerating the transition to clean energy. Within the scope of this plan, the European Commission proposes to increase the renewable energy target to 45% by 2030 and to increase energy savings from 9% to 13%, compared to an EU reference scenario for 2020.
Progress towards 2030
According to the latest EEA estimates, the EU's net greenhouse gas emissions, which take into account carbon absorbed, for example, by forests, were about 28% lower in 2021 than in 1990. Faster and deeper emission reductions are therefore required for the EU to reach the 55% target by 2030.
Moreover, the EEA's "Trends and projections" analysis shows that Europe needs to continue to invest in renewable sources of electricity and that these should account for a much larger share of energy used for heating, cooling and transport. At the same time, it is important to avoid the use of coal or lignite as a substitute for gas in the power sector.
Perhaps most urgent is the need to reduce energy consumption faster. Meeting the EU's 2030 energy efficiency target will require much faster cuts than those achieved between 2005 and 2020. Expanding district heating and cooling, installing heat pumps and improving building insulation would support these targets, but efforts are needed in all economic sectors, along with changes in citizens' private energy use, such as turning down thermostats during the winter and using less air conditioning during the summer.
Europe's energy mix today
According to the latest aggregate data, as of 2020, the total energy available in the EU comes mainly from five different sources: petroleum products, including crude oil (around 35%); natural gas (24%); renewable energies (17%); nuclear energy (13%) and solid fossil fuels, such as coal (12%).
However, there are significant differences between EU Member States. For example, petroleum products accounted for more than 85% of total available energy in Cyprus and Malta in 2020. Natural gas accounted for 40% of total available energy in Italy, nuclear energy 41% in France and renewables almost half of total energy in Sweden
A country's energy mix is shaped by several factors, such as the availability of domestic resources, such as forests and other biomass, and rivers, or good potential for wind or solar power. Decisions made in the past lock countries into the use of particular technologies over many decades, and connectivity to large energy grids, as well as relations with neighbouring countries, affect the options available for exports and imports.
In 2020, around 42% of the total energy available and consumed in the EU was also produced in the EU. The rest, almost 60 %, was imported. Russia has long been the main supplier of EU energy imports. In 2020 it supplied 29% of crude oil, 43% of natural gas and 54% of solid fossil fuels, mainly coal, used in the EU. Moreover, some EU Member States have been more dependent on Russian energy than others, making them even more vulnerable to energy shortages and price hikes.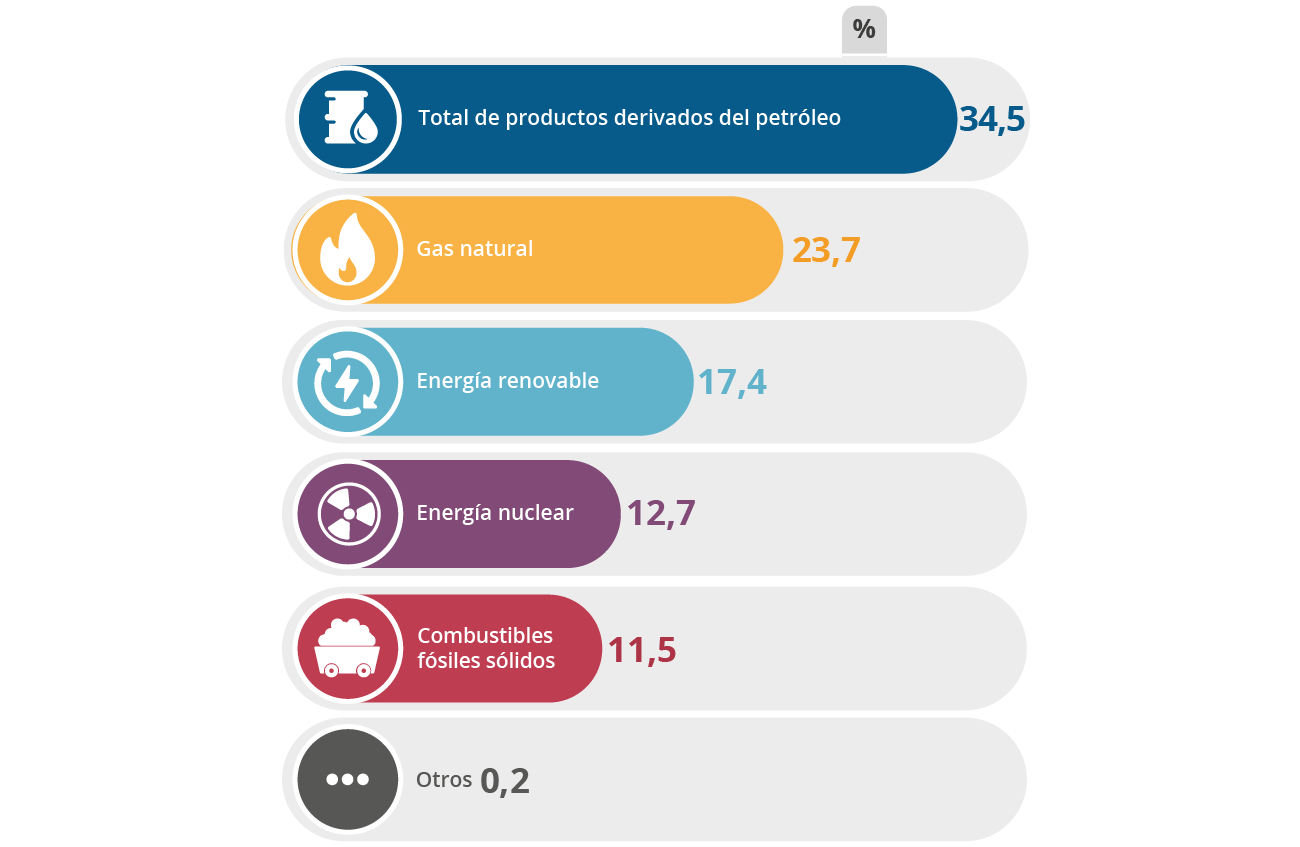 Maintaining the target, but accelerating the pace
The European Green Pact was announced in 2019 to pave the way for sustainability through a socially just transition. The importance of this basic objective has only been reinforced by the COVID-19 pandemic and the war in Ukraine.
EEA assessments have consistently shown that European production and consumption systems need to move rapidly towards sustainability. In the energy system, this means both reducing energy consumption and increasing the share of energy from renewable sources to reduce the use of fossil fuels.
In addition, moving towards a more circular economy – reducing and optimising the use of materials – would support European climate and energy targets. Extending the lifetime of products and materials or using more recycled materials could offer significant sustainability benefits.
Achieving these targets would reduce Europe's greenhouse gas emissions and pave the way to achieving climate neutrality by 2050. The benefits of energy savings are clear and immediate, especially for household budgets. Switching to renewables for electricity generation offers multiple benefits beyond reducing greenhouse gas emissions, such as cleaner air, water and land.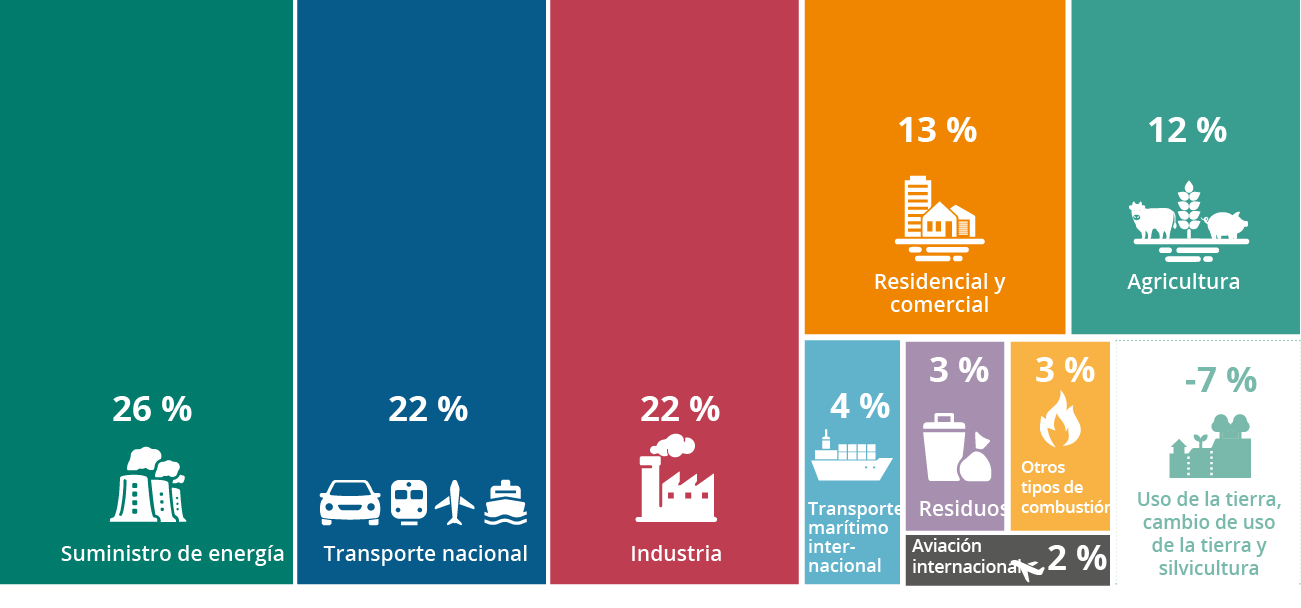 Source: European Environment Agency