The World Forum for Democracy is an annual gathering of leaders, opinion-makers, civil society activists, representatives of business, social innovators, academia, and media to debate key challenges for democracies worldwide and encourage democratic innovation.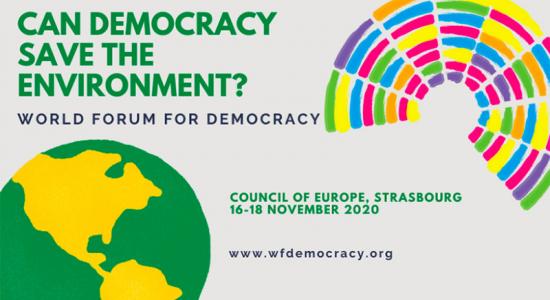 The 2020 edition, taking place in Strasbourg (France) from 16 to 18 November 2020, will focus on environmental challenges and democracy.
The labs will allow participants to learn about ground-breaking initiatives that offer responses to the key questions above based on an analysis of their real impact and replicability. The initiatives should help understand how democracy and democratic institutions and practices can help accelerate the fight against climate change.
The initiatives should be presented in short speeches of ten minutes and critically assessed by multidisciplinary panels and participants in the labs.
How to apply
Interested public or private organisations worldwide are invited to express their interest in presenting an initiative aimed at solving environmental problems and enhancing democracy from all over the world.
Submissions should be made by answering the questionnaire and sending it to forum_democracy@coe.int
Dead line
30 June 2020
More information