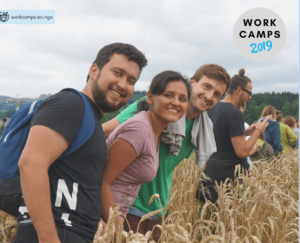 As the summer season begins and young people start to organize their free time, we would like to share the information about volunteer camps and European Solidarity Corps, in case it could be of your interest.
International Civil Service
International Civil Service has more than 1,000 projects in more than 60 countries. The duration of a volunteer camp ranges from 10 days to 3 weeks and the number of participants in each field would usually range between 6 and 20 volunteers.
The SCI volunteer fields are an important initiative for the construction of a more solidary and inclusive society, creating situations of intercultural exchange and knowledge, breaking down the walls of prejudices for the integration of different cultures.
The age of participation is between 16 and 99 years although there are also family fields to which you can go with children under 16. The administrative fee for field management is € 130 and it includes international volunteer insurance.
European Solidarity Body
There is also the possibility of volunteering with one of the projects of the European Solidarity Corps. They are a non-formal educational activity that allow young people between 18 and 30 years to express their personal commitment through a long-term voluntary service with the costs paid.
It is full-time, for a maximum of 12 months, and always in a country different from one's own, either within the European Union or outside of it. Through the learning experiences, the volunteers improve or acquire skills for their personal, educational and professional development, as well as a better understanding of the contemporary reality.
Enclosed you will find the bulletin with the current projects this week, with 2 urgent projects, some long-term projects, and two of short duration (which could interest young people who want to get involved in a volunteer activity during the summer).
Más información
BOLETÍN campos SEMANA 06.05.2019