A Spanish institute developed drug candidates containing metals to target cancer cells.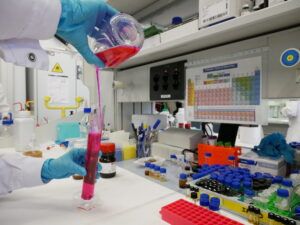 A Madrid laboratory developed families of drug candidates to treat cancer, using metals like iridium, ruthenium and osmium, during four-year EU-funded project MEMOTUMCELLMACH.
The IMDEA Nanoscience Institute, with support from the Marie Curie programme, says its research on metallodrugs based on iridium shows they could be up to 200 times more effective against cancer cells than cisplatin – one of the most commonly used drugs for cancer patients.
"We now know that the iridium family of drugs is super potent," says laboratory head Dr. Ana Pizarro. "They accumulate in the mitochondria or power house of the cancer cell and exclusively so." The team also developed a family of osmium-based candidates to control pH inside the cancer cell. "The impact it could have on cancer progression and invasion is scarily good," she said.
Multiple targets
Scientists discovered the metallodrug cisplatin, which contains an atom of platinum, by chance in the 1960s and is still used in about 50 % of chemotherapy treatments worldwide.
But cisplatin and other drugs on the market don't work for all types of cancers and sometimes affect healthy cells. "There is no single cause of cancer, there is no single target, so there is no single magic bullet," said Dr. Pizarro.
She focused on ways to get the metal compounds to switch 'on' to react and attack cancer cells while remaining inactive outside the cancer cells. That means they wouldn't destroy healthy cells, causing pain and side effects to patients.
More Information
Access to the full news