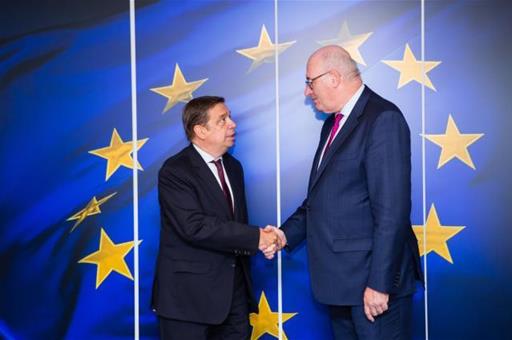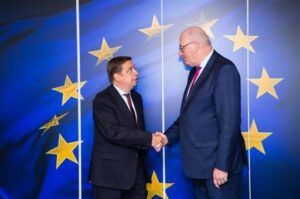 The acting Agriculture, Fisheries and Food Minister Luis Planas, accompanied by the Secretary of State for Commerce, Xiana Méndez, has met in Brussels with the European Commissioners of Commerce, Cecilia Malström, and Agriculture and Rural Development, Phil Hogan, in a meeting that the minister has described as "positive."
The minister stressed the importance of maintaining European unity in the defense of our common interests. In this context, Planas has ensured that Spain will firmly defend the interests of its producers and its exporters. For this, the Government has the support expressed by the autonomous communities and by the agri-food sector as a whole in the meetings held by the minister this week.
Specifically, Planas has asked Commissioner Malström firmness to face the announcement of "unfair" sanctions from the United States to agrifood products, for an amount close to 7.5 billion dollars at the community level. In this regard, Planas has highlighted the great effort that the Commission is making to ensure that the panel for the Airbus case can be crossed in the immediate future with which the European Union has against the United States for the Boeing issue and, therefore, so much, that the agri-food sector of this commercial conflict is left aside. In addition to transmitting the same message, Planas has addressed the situation of each of the sectors with Commissioner Hogan.
Olive oil
In the case of olive oil, the economic impact of tariffs would be serious and would add to the price crisis experienced by the sector, as a result of a record harvest last season. In this regard, the Government has requested the private storage of olive oil. Although the reference threshold for activating it has not been reached, Planas considers that at this time there are special circumstances for the Commission to be sensitive and adopt this measure. Before this request, the commissioner has pledged to examine the Spanish petition and give him an answer in the next few days.
Table olives
In relation to table olives, the minister recalled that as a result of the procedure against black olives, the sector has already lost around 40% of its market in the United States in just one year. At this point, Planas has requested not only promotional measures but also the possibility of examining the possibility of alternative measures.
More information