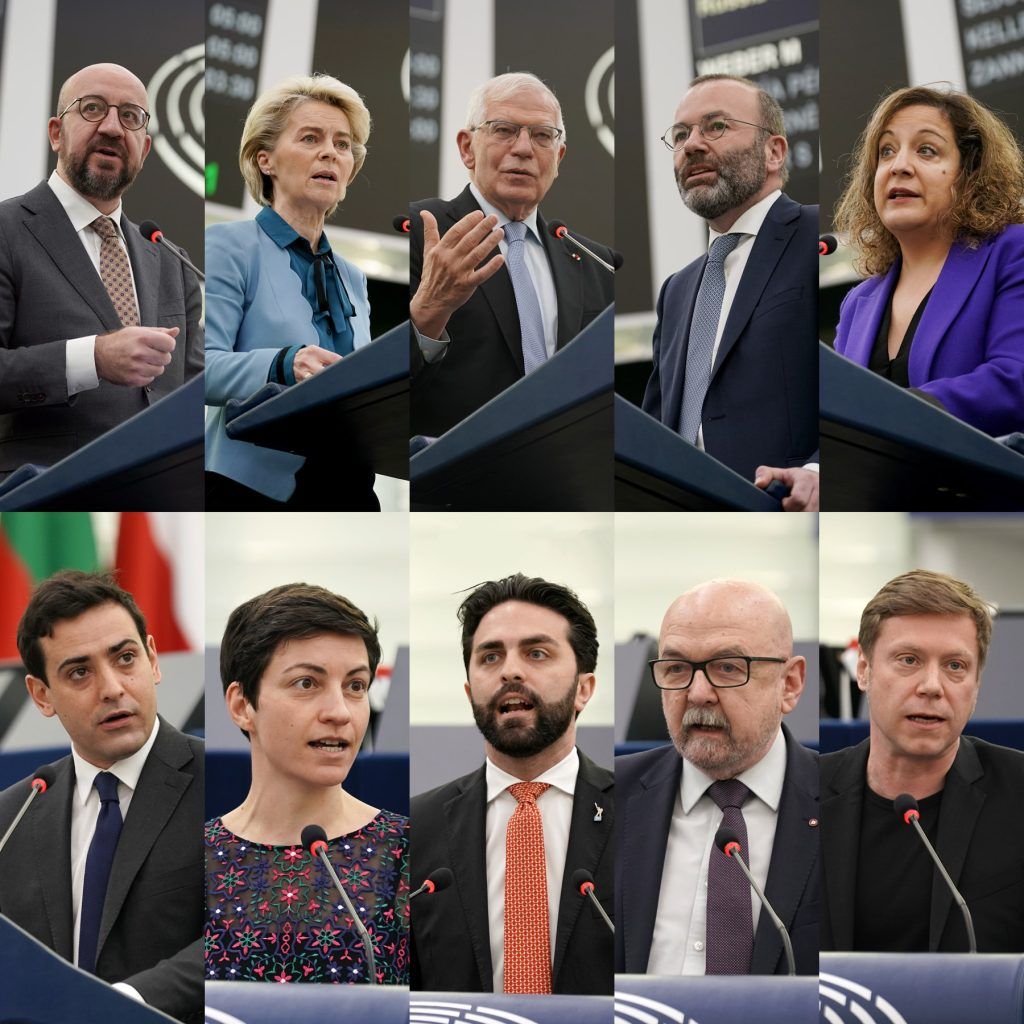 Statement on Ukraine by European Parliament's leaders (February 24)
Parliament's President and group leaders adopted the following statement on Russia's military attack on Ukraine, and announced an extraordinary plenary session for next Tuesday.
The European Parliament Conference of Presidents was convened by President Roberta Metsola this morning to discuss our response to Russia's invasion into Ukraine.
An exchange of views was held with the President of the European Council Charles Michel and the President of the European Commission Ursula Von der Leyen.
The Conference of Presidents condemned the Russian attack on Ukraine in the strongest possible terms. Ukraine is an independent and sovereign nation and its territorial integrity is non-negotiable. The invasion is unjustified and illegal. It is a threat to European and regional stability, as well as to the rules-based world order. The attack targets our model of democratic society. It cannot go unanswered.
We remain firm in our unity, in our resolve and in our response to unprovoked Russian aggression. The European Parliament supports an unprecedented European and international response, including new and severe sanctions that will ensure the Kremlin will be held accountable for its actions.
The Conference of Presidents expressed full solidarity and support for Ukraine and its people.
It was agreed to organise an extraordinary plenary debate on Tuesday 1 March 2022.
---
Russia's threats against Ukraine are a wake-up call for Europe, MEPs say. In a debate on EU-Russia relations, European security and Russia's military threat against Ukraine, MEPs called for a united response and voiced support for Ukraine.
"What might happen in Ukraine will mark the future of humankind"
The EU must speak with one voice on foreign policy. MEPs call for a more effective EU foreign and security policy and a stronger defence capability to respond to threats, in two reports adopted on Thursday.
With growing instability in the world, the rise of authoritarianism and disinformation, the EU should take the lead in strengthening multilateral partnerships and in protecting and promoting democracy and human rights globally, stress MEPs in a report on the implementation of Common Foreign and Security Policy adopted on Thursday by 474 votes in favour, 113 against and 102 abstentions.
MEPs point out that in order to deal effectively with current international challenges, the EU has to act with one coherent voice. Decisions on foreign policy should no longer be taken by unanimity, as this gives a member state the right to veto a decision taken by all the others, but instead by qualified majority.
The EU also needs to ensure its strategic sovereignty and be less dependent in key technological areas, critical infrastructure and supply chains, Parliament highlights.
Call for increased military assistance to Ukraine
Both reports strongly condemn Russia's aggressive behaviour towards Ukraine.
The text on the Common Security and Defence Policy, adopted by 369 votes in favour, 197 against and 123 abstentions, calls for increased and credible military and security assistance to Ukraine, including by mobilising the European Peace Facility. MEPs also encourage the member states to increase their bilateral military and security assistance to Ukraine.
Call for a more resilient European Union
Parliament also calls for a robust defence policy and a more resilient European Union that can counter threats such as terrorism, cyber-attacks, the exploitation of migration for political purposes and foreign interference. The EU should be able to respond firmly, alongside its partners, but also autonomously where necessary.
Welcoming the launch of the work on the Strategic Compass as an unprecedented strategic reflection, MEPs state that the Compass should constitute a major step towards a genuine European Defence Union.
They also support creating a 'rapid entry capacity' with air, maritime and special forces that can be mobilised in a security emergency.
---
Russia's threats against Ukraine are a wake-up call for Europe, MEPs say
On Wednesday morning, MEPs took stock of the latest developments related to Russia's military threats against Ukraine in a plenary debate with European Council President Charles Michel, European Commission President Ursula von der Leyen and EU Foreign Policy Chief Josep Borrell.
Opening the debate, Parliament President Roberta Metsola underlined how the European Parliament has repeatedly expressed solidarity with the people of Ukraine as they continue to face uncertainty and threats of Russian military aggression.
"What we are witnessing here is also a threat to peace in Europe", she added, whilst highlighting that Parliament later today will also vote to approve EUR 1.2 billion in financial assistance to Ukraine. She thanked the European Commission for its "timely proposal to support Ukraine's financial stability and resilience under the current difficult circumstances".
European Council President Charles Michel underlined how the recent and unprecedented Russian military build-up along the Ukrainian border can only be seen as aggressive and threatening behaviour. He pointed out how these belligerent tactics not only threaten the stability and integrity of Ukraine but also peace and security in Europe and the rules-based international system.
Mr Michel underscored that the EU is working continuously with its international partners and allies to de-escalate tensions, first and foremost through diplomacy, but also in preparing robust sanctions against Russia if its military aggression against Ukraine continues. In addition, he announced an initiative, as part of close coordination between the EU and Ukraine, of a donors' conference to further support the Ukrainian economy.
"The idea of spheres of influence doesn't belong in the 21st century", said the President of the European Commission Ursula von der Leyen. Diplomacy has not spoken its last word yet, but now deeds have to follow, she said, referring to the latest signals coming from the Kremlin. NATO has not yet seen a reduction in Russian troops around Ukraine, she stressed.
The Commission President also warned Russia not to weaponise the "energy issue". As the EU is bolstering other sources of energy, "we now are on the safe side for this winter", she pointed out, adding that the main lesson learnt for the EU is that it must diversify its energy sources to not be dependent on Russian gas. The European future lies in renewable energy, she concluded.
"What might happen in Ukraine will mark the future of humankind", warned EU High Representative Josep Borrell. "If the law of the strongest prevails, that would be a step backwards", he added. Mr Borrell also emphasised how the EU and its member states are facing the possibility of Russian military aggression in complete unity and considered that "this is one of the positive consequences of this crisis". He made clear that the EU is ready to negotiate for a diplomatic solution, but also prepared to act, with sanctions, if need be.
Many MEPs highlighted how the current tensions are a wake-up call for the European Union, which must further develop its force of power to handle external pressure and ensure a strong response to outside threats, whilst maintaining peace and democracy as fundamental values and essential purpose. As such, they noted how the current Russian challenges create an opportunity to strengthen European unity.
While expressing their continuous support and admiration for the Ukrainian people, faced with the threat of Russian aggression for years, many Members reiterated the need for both continued diplomacy vis-à-vis Moscow and the need to prepare tough sanctions against Russia. A lot must be on the sanctions table, including the Russia-to-Germany gas pipeline Nord Stream 2, some said.
MEPs also pointed out that the reason for Russia's aggressiveness is not the expansion of NATO but rather the power of the values and attractiveness of democratic societies, which is scaring Russian President Vladimir Putin and the Kremlin. On another note, some MEPs also criticised the EU for being too ambiguous in its response to Russia, whilst others stressed that Europe needs to follow up its words with action in pushing back against Russian aggression.
You can watch the plenary debate again here (16.02.2022).
Context
Commission unveils significant actions to contribute to European Defence, boost innovation and address strategic dependencies.
On February 15, the Commission put forward a number of Commission-led initiatives in areas critical for defence and security within the European Union. These comprise a Contribution to European defence, covering the full range of challenges, from the conventional defence industry and equipment on land, sea and air, to cyber, hybrid and space threats, military mobility and the relevance of climate change; and a roadmap on critical technologies for security and defence. These new initiatives are concrete steps towards a more integrated and competitive European defence market, particularly by enhancing cooperation within the EU, thereby building scale, mastering costs and enhancing operational effectiveness. With its announcement today, the Commission provides input in the run-up to the EU Strategic Compass on Security and Defence.
By using all available means in an ever-evolving geopolitical and technological context, the Commission aims at strengthening the Union's ability to counter fast-changing multi-layered threats.
The Commission has, in particular, identified the following main new areas to further strengthen the competitiveness of the European defence market: explore how to further stimulate Member States investments in key strategic capabilities and critical enablers that are developed and/or procured in European Union cooperative frameworks; further incentivise the joint procurement of defence capabilities developed in a collaborative way within the EU; call upon Member States to continue moving towards streamlined and more convergent arms exports control practices, in particular for defence capabilities developed in an EU cooperative framework.
Investments in defence research and capabilities and joint procurement
Streamlined and more convergent export control practices
Synergies between civilian and defence research and innovation and reducing strategic dependencies
Strengthening the defence dimension of space at EU level
Enhancing European resilience
The EU Strategic Compass for Security and Defence is a Council document, steered by the High Representative Josep Borrell, that aims at providing Member States' common ambition to answer to the threats and challenges the EU is facing through concrete objectives and deliverables for the next 5-10 years. The Council should adopt it in March 2022.
The roadmap on critical technologies for security and defence corresponds to a request from the European Council of 25-26 February 2021 to outline a path to boosting research, technology development and innovation and reducing the EU's strategic dependencies in critical technologies and value chains for security and defence.
The update of the 2020 New Industrial Strategy: Building a stronger Single Market for Europe's recovery in May 2021 confirmed that technological leadership remains an essential driver of the EU's competitiveness and innovation, in particular for critical technologies. The Commission action plan on synergies between civil, defence and space industries of February 2021 recognised the growing importance of disruptive and enabling technologies originating in the civil domain for Europe's future security and defence and the need to promote cross-fertilisation and synergies between civilian and defence technologies.
More information
European Parliament – Press release