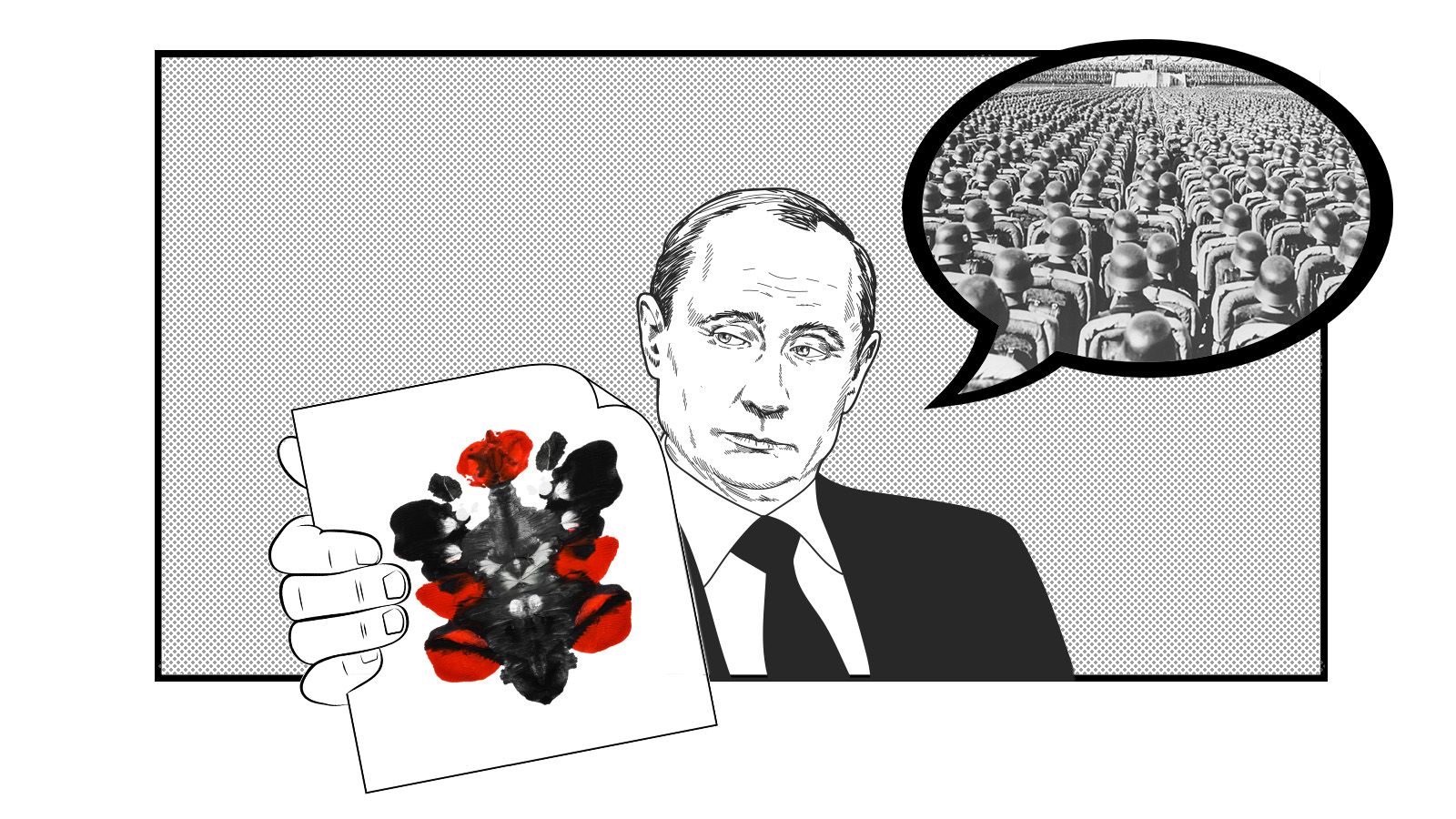 It is a schoolyard defence most of us know. If someone calls you a name you reply, "It takes one to know one" or "you are worse than me". That is, accuse them of the very charge they made against you. This rhetorical tactic is a projection(opens in a new tab) – a way to shift blame for their own destructive actions.
In his speech(opens in a new tab) aired 24 February announcing the invasion of Ukraine (aka "special operation"), Putin dished out several whoppers of lies. He claimed that the "limited military operation" aimed to ensure the "defence of Donbas" and the "self-defence of Russia", although Ukraine has never threatened anyone, let alone Russia. He claimed that the "operation" would involve "no occupation", although Russian soldiers in Ukraine are now establishing just such an occupation in parts of the east and south. Putin outlined "holding elections for a new government"; any fair elections, however, would likely return an overwhelming majority deeply hostile to Russia, if only because Putin's invasion overthrew a government that was democratically elected in 2019 with over 73 per cent of the vote.
On 16 March, Putin gave a long speech(opens in a new tab), throwing verbal attacks and wild allegations: the "Neo-Nazis" in Kyiv preparing chemical attack, biological weapons, anthrax, even soon to have nuclear weapons ready against Donbas and Russia. Needless to say, none of the allegations were backed up by a shade of evidence, as it is usually the case for the most insolent disinformation tropes.
Going Nazi…
One claim stood out both on 24th February and on 16 March, however. Putin promised that, following victory, his forces would carry out the "de-Nazification" of Ukraine. The implication was that the current government – headed by a Jewish President(opens in a new tab) with three uncles(opens in a new tab) who died in the Holocaust – is wholly or partly Nazi.
This is not the first time that the Kremlin has used the term "Nazi" to describe Ukrainian authorities. It is not even the fiftieth time. For years, Russian officials and state media outlets have used the term to smear and demonise Ukraine and its government. Just in the past few weeks and months, Russian outlets accused Ukraine of being fascist, claimed that "state terror" in Ukraine is comparable to the Nazi occupation, and alleged that "fascist forces" organised Ukraine's 2014 Maidan Revolution.
What is different now?
Two elements: "Nazi" has now become dominant in state outlets. From being merely frequent and directed at selected countries – Ukraine, the Baltic states, Poland – it has now become a general obsession. According to RT, the entire Europe [EU] is generally like Nazis(opens in a new tab). Secondly, now it also dominates Putin's vocabulary – together with other derogatory terms such as "nationalist drug addicts", "puppets", etc. In recent months, even Foreign Minister Lavrov could hardly utter a word about Ukraine without saying "Nazi".
On 4 March, when the Russian parliament unanimously rubberstamped draconic laws curbing free speech and independent media, the "debate" was filled with the Nazi word. Ostensibly, the entire West is "Nazi" because of their support to Kyiv and for this support, 48 countries are now declared(opens in a new tab) "unfriendly" towards Russia.
The Cult of personality…
While Putin blame others for being Nazis, the cult of personality grows at home.
18 March marked the 8th year since the illegal annexation of Crimea. The celebrations in Moscow reached a new climax this year. On that day, Putin spoke(opens in a new tab) at the Luzhniki stadium in Moscow, where full tribunes could see him standing by the slogan "For a world without Nazism". Cynically, he was justifying war again with two most used words to justify the invasion on Ukraine: genocide and Nazism.
Approximately 100,000 people participated in the concert(opens in a new tab), many of them with banners and slogans: "For the President", "For Russia" "For Crimea", "For Donbas". The "for" – "za" of course spelled with the Latin first letter "Z" to hail the war.
It is difficult not to see the cult of personality, too well known from former times of war.
Source: EUvsDisinfo