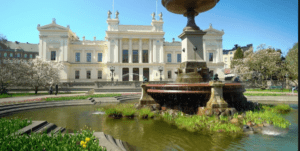 The PhD programme in political science consists of 240 credits (equivalent to four years of full-time studies) and is concluded with the public defense of a doctoral thesis. The appointed doctoral students will receive a salary from the University during four years, and their primary obligation is to complete their PhD studies.
Organisation
Founded in 1666, Lund University, Sweden is one of northern Europe's oldest, broadest and finest universities and is consistently ranked as one the world's top universities.
Tasks
The position may involve departmental duties, mainly in the form of teaching, up to 20 per cent of full-time working hours, in which case the appointment will be extended by the equivalent number of hours.
Theme
The position is associated with the research project 'Forest Visions: envisioning forest management practices for a fossil free society in the face of goal conflicts and uncertainties'. The project combines ecosystem modeling, stakeholder-dialogues and perspectives from the social sciences. The doctoral student is expected to carry out research that contributes to the general aims of the project, as well as other research deemed relevant by her/him after the end of the project.
Language
The main language of the PhD programme is English. However, non-Swedish speaking students are expected to acquire basic skills in Swedish during the period of employment. There are opportunities to participate in language courses taught at the University.
Deadline
5 February 2020
More information