Do you want to shape our inclusive digital future by building on technical advancements? Make sure your voice is heard, join the challenge, connect with driven young people from Europe and Canada on a local and international level and share your opinions on how we can build our future society in a modern digital context!
Network, develop new skills and influence topics that are important to you and the world!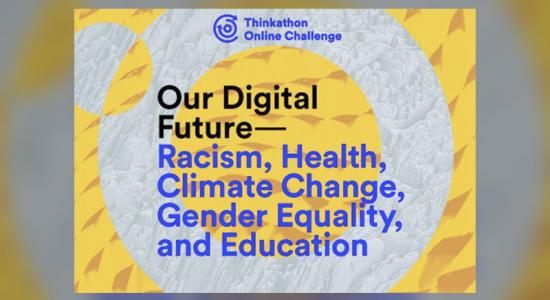 During this online challenge you will develop a project with driven young people from Canada and Europe to help build a modern and digitally inclusive society based on one of these seven topics:
Racism
Health
Climate change
Gender equality
Education
The online final will happen on the 22nd of January 2021.
Eligibility criteria
individuals aged between 18 and 30 years;
living as permanent residents or citizens either in Europe or Canada; and
registering online for the Thinkathon.
How to participate
Register on the platform and create or join a team of 2 – 4 members. For this, each team needs to prepare an up to 5-slide presentation to present their ideas and recommendations for the chosen category.
You can use the provided presentation template.
Each team must upload their presentation to their participation space before 1st December 2020, 23.59 (GMT). Submissions must be made in English.
The voting stage will take place between 1st and 4th December 2020. Up to 50 teams will be selected to go through the second round.
The 5 best teams will pitch their solution to the jury that will select the three winners.
Prizes
First prize: 400 Euro (per team member)
Second prize: 300 Euro (per team member)
Third prize: 200 Euro (per team member)
Audience prize: 100 Euro (per team member)
The winners will be invited to a dedicated info session online with policymakers in either Ottawa, Canada (for European participants) or Brussels, Belgium (for Canadian participants).
During these sessions, the results of the overall project (Online and Onsite) will be presented by the Online challenge as well as last Thinkathon finalists who then will have the chance not only to meet but also to discuss with Canadian and European policymakers about the importance of the results.
The final will be live-streamed. The public will have the chance to vote on the presented ideas and select the team that will win the audience prize.
Deadline
01 December 2020
More information