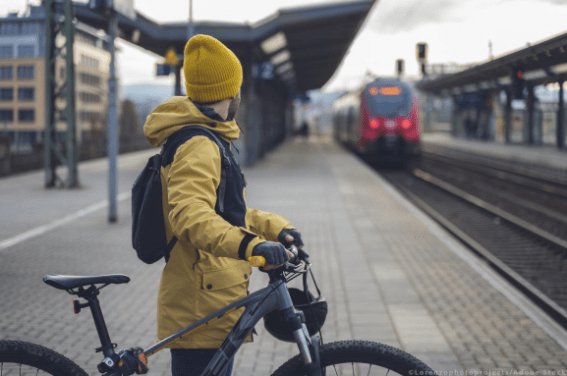 The European Parliament extends the rights of passengers travelling on the EU's rail networks. Thanks to the new rules, rail passengers will be better protected against delays and cancellations or in the event of discrimination.
The new rules will ensure that passengers can continue their journey by an alternative route and receive assistance when delays or cancellations occur. The reform covers different areas, from improving accessibility for people with reduced mobility in transport to increasing the information provided by railway companies and increasing the number of spaces for bicycles. In addition, it will apply to all rail services: private and public, as well as national and international.
Improving the rights of disabled persons and persons with reduced mobility
All European railway undertakings will have to guarantee free assistance to disabled persons and persons with reduced mobility. Travellers with reduced mobility will have more flexibility in organising their journeys, as they will be obliged to notify the operator of their travel plans only 24 hours in advance (now they must do so 48 hours in advance). In addition, if they need an accompanying person, this person will travel free of charge. People with reduced mobility who need an assistance dog will be guaranteed that the dog can travel with them.
Assistance in case of delays or cancellations
In the event of delays of more than 60 minutes, passengers may choose between claiming compensation for the full amount of the ticket, making the journey or rescheduling their journey under the same conditions and at no additional cost. If necessary, rail operators must provide meals and refreshments and reimburse accommodation costs.
In the event of a delay of more than 60 minutes, passengers may choose between reimbursement of the full amount of the ticket or continuation of the journey on the same or an alternative route under comparable conditions and at no additional cost. They shall be able to travel in the same class as with their original ticket. Rail passengers will be able to re-arrange their journey themselves on an alternative route and obtain a refund for the purchase of a new ticket if the rail operator does not offer them any option within 100 minutes of the scheduled departure.
Obligations regarding alternative travel options for stranded passengers will apply even in cases of force majeure and, if necessary, meals and refreshments will have to be provided and accommodation costs reimbursed.
The new rules will also define more clearly what can be considered as force majeure, which would exempt railway undertakings from paying compensation for delays or cancellations. In addition to extreme weather conditions and major natural disasters, serious public health crises or terrorist attacks are also covered. Strikes by railway staff will not be covered by this exemption.
Improved access for bicycles
Parliament considers that most trains do not have adequate space for bicycles. In order to move towards more sustainable mobility and offer comfortable alternatives, all trains, both new and renovated, should have dedicated spaces and racks for bicycles, with at least four places for bicycles on each train.
Further information
Train companies will have to provide passengers with more information about the existing rules. They will have to explain passengers' rights in detail on the tickets.
They will also have to be more transparent about deadlines and how to deal with complaints.
Next steps
The rules will start to apply in two years' time, with the exception of bicycle space requirements, which will apply four years after entry into force.