The Commission has unveiled the eight winners of the second edition of the EU Organic Awards. Much like last year's edition, this year's winners are various actors from the European organic sector, who represent excellence along the organic value chain. The EU Organic Awards also mark the celebration of the EU Organic Day launched by the European Parliament, the Council, and the European Commission in 2021.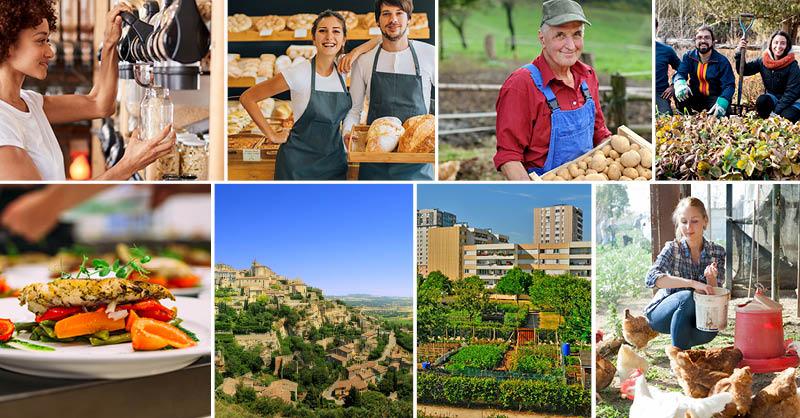 This year, a pool of close to 100 applications from all over Europe were received, with 24 shortlisted candidates selected from 11 EU countries. The EU Organic Awards scheme comprises 7 categories and 8 individual awards. They acknowledge excellent, innovative, sustainable and inspiring projects producing real added value for organic production and consumption. The awards are jointly organised by the European Commission, the European Economic and Social Committee, the European Committee of the Regions, COPA-COGECA and IFOAM Organics Europe, with the support of the European Parliament and the Council
Eight awards were presented:
Best organic farmer (female) to Ms Clara Benito Pacheco in Spain. Ms Benito Pacheco runs an extensive organic goat farm fed exclusively on native grass. Her freely grazing ecological herd contributes to biodiversity. Thanks to virtual fence technologies, and the use of GPS collars, adult animals can graze freely as no physical fences are needed anymore, contributing towards carbon sequestration in grassland.
Best organic farmer (male) to Mr Thomas Moschos in Greece. Together with his brother, Mr Moschos runs the Moschos family farm in Kastoria, which is an organic livestock farm specialised in raising sheep and producing dairy products. He implements new farming methods, improving soil and circularity, which in return leads to higher soil organic matter and yields.
Best organic region to the Burgenland region in Austria. Burgenland has become a role model in the organic reconversion scene thanks to the scientific implementation of the "Bioland Burgenland" strategy. The strategy aims not only to increase the share of agricultural land farmed organically to 50% by 2030, but also to enhance the complete organic supply chain, including for regional canteens, buffets and schools.
Best organic city to Vienna in Austria. The Austrian capital produces organic agricultural products for its inhabitants from its 44,000 hectares of forest and agricultural land in its far-reaching organic "farm to fork" concept. Thanks to this initiative, the local economy is strengthened via the regional value chain, which provides support to sustainable agriculture and diets.
Best organic bio-district to Idanha-a-Nova in Portugal. The eco-region is the largest area of agricultural land under organic farming in Portugal, supporting projects that reinforce short supply chains and increase the offer of organic products.
Best organic food processing SME to the Merry Mill in Ireland. The family-run organic farm produces a range of organic gluten-free foods in a closed-loop system on their organic farm. In order to manage the whole process from start to finish to ensure no cross contamination of other grains occurs, they have built Ireland's first organic gluten-free oat mill.
Best organic retailer to Gut Wulksfelde in Germany. The company operates a 600 m² farm shop selling products from its own organic farm, a size 450 hectares of land with over 50 varieties of vegetables. Besides selling more than 8,000 organic food products, the shop also features a bakery and a green Michelin star awarded restaurant.
Best organic restaurant/food service to Luftburg – Kolarik im Prater in Austria. Luftburg – Kolarik im Prater is the largest fully certified organic restaurant in the world with ecological and social sustainability at the heart of its philosophy. A winner of several Austrian prizes, it uses renewable energy and aims to minimize its environmental footprint wherever it can.
Background
Organic farming is one of the success stories of EU farming. It represents an attractive sector for EU farmers, bringing environmental, economic and social benefits. As such, the promotion of organic production is also an important feature of the European Green Deal, the Farm to Fork strategy and the Biodiversity strategy. Following the EU Action Plan for the Development of Organic Production in the EU, adopted in 2021, the Commission works to further promote the benefits of organic production. The share of EU agricultural land under organic farming has already increased by more than 50% in the period of 2012-2020, with an annual increase of 5.7%. In the current CAP, all 28 CAP Strategic Plans include funding to support organic farming. At EU level, it is expected that about 10% of the total agricultural area will be receiving CAP support for organic farming in 2027, a doubling of the situation compared to 2020. This support, along with measures to encourage further organic farming investments, will play a significant role in achieving the EU's goal of covering at least 25% of total agricultural area with organic farming.
More information: European Commission