The 10th EU-Republic of Korea summit took place in Seoul, as both partners celebrate the 60th anniversary of EU-South Korea diplomatic relations.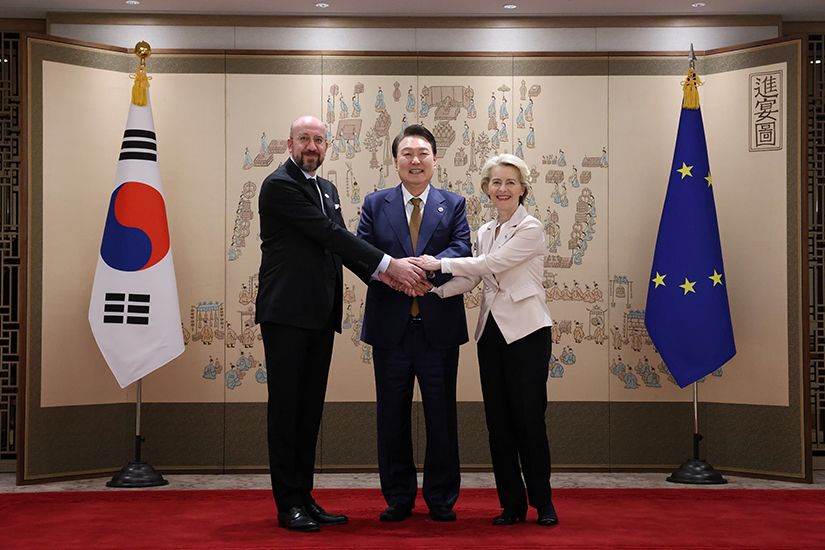 Main results
The summit sent a strong signal of increased cooperation between two like-minded partners.
The leaders took stock of the progress made to advance their strategic partnership and discussed the following issues:
peace and stability
economy and trade
sustainable development
Strengthening cooperation for peace and stability
The EU and South Korea discussed the latest developments related to Russia's war of aggression against Ukraine.
The leaders recalled their unwavering support for Ukraine's independence, sovereignty and territorial integrity within its internationally recognised borders and its inherent right of self-defence against the Russian aggression.
Since the start of Russia's war, the EU and its member states have made available around €70 billion to Ukraine and its people. They have also adopted unprecedented measures against Russia.
On North Korea, the leaders repeated their commitment to the complete denuclearisation of the Korean peninsula.
The EU and South Korea called on all United Nations (UN) members, especially members of the UN Security Council, to take a united and firm stand against North Korea's illegal weapons programme.
The EU and South Korea also reaffirmed:
their strong support to multilateralism
the importance of a free, open and rules-based Indo-Pacific
their support to freedom of overflight and navigation, including in the South China Sea
Partnership for greater prosperity
The leaders noted with satisfaction the robust and thriving economic relationship, which is based on the South Korea-EU free trade agreement.
In 2022, bilateral trade in goods amounted to €132 billion.
The EU and South Korea agreed to work to improve access to each other's markets for agri-food products.
The leaders also highlighted:
the importance of maintaining momentum on labour issues
their support for the reform of the World Trade Organization
their cooperation on economic security and addressing supply chain disruptions
Faced with issues on the global energy market, aggravated by Russia's war of aggression against Ukraine, they acknowledged the need to speed up the energy transition and collaborate to achieve decarbonisation.
They welcomed the launch of the EU-South Korea digital partnership in November 2022.
EU and South Korea agreed to continue and deepen their cooperation on various digital and data protection issues and on industrial competitiveness, notably in the semiconductor industries.
The leaders also welcomed the opening of negotiations on South Korea's association to Horizon Europe.
Working together for sustainable development
The leaders launched the EU-South Korea green partnership to reinforce their cooperation in transitioning to a net-zero economy.
The EU and South Korea also agreed to cooperate on:
management of cross-border health problems
sustainable, efficient, safe and secure transport systems
education and culture, notably through the Erasmus+ programme
Previous summit
At the previous summit in 2018, EU and South Korean leaders reaffirmed their strong ties and their commitment to strengthen their strategic partnership.
More information: European Council