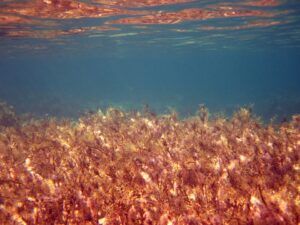 Due to their high productivity and their potential for avoiding competition with arable lands, microalgae are regarded as a valuable feedstock for biorefining operations.
Microalgae are a potential source of molecules for a wide range of novel high-value products in different applications such as energy, fuel, food, feed, pharmaceutical and cosmetics. However, their current production scale and costs are holding back full-scale commercialisation steps. The main challenges regard: (i) efficiency of the cultivation method (in terms of growth rate and product synthesis rate); (ii) harvesting and separation of the microalgal biomass from the culture medium; (iii) pre-treatment of the algal biomass to release its components (mainly lipids, proteins, carbohydrates) for further conversion; and (iv) the further conversion steps themselves.
Scope
Demonstrate the efficient and sustainable cultivation, recovery and processing of microalgae and downstream production of high-value chemicals and/or materials including food and feed ingredients.
The scope of this topic excludes energy carriers (such as liquid fuels or hydrogen) as the main products.
Proposals should aim for large-scale continuous cultivation and recovery of microalgae, as well as separation and purification of the targeted products.
Proposals should also aim at reducing inputs for microalgae cultivation such as energy, water, nutrients and CO2 (or other carbon sources in case heterotrophic microalgae are envisaged).
Proposals should valorise as many as possible of the valuable compounds contained in the microalgae through a cascading approach.
Proposals should demonstrate that the quality of the obtained products meets the requirements of specific market applications.
Proposals should address all requirements for IA – demonstration actions as shown in Table 3 in the Introduction of the Annual Work plan 2019.
The technology readiness level (TRL) at the end of the project should be 6-7. Proposals should clearly state the starting and end TRLs of the key technology or technologies targeted in the project.
Documents
BBI JU Work Plan
BBI JU Scientific Innovation and Research Agenda (SIRA)
BBI JU Derogation to H2020 Rules for Participation
BBI JU Regulation of Establishment
H2020 Regulation of Establishment
H2020 Rules for Participation
H2020 Specific Programme
Dead line
04 September 2019 17:00:00 Brussels time
For more information
Blue Growth
Socio-economic science and humanities
Cross-cutting Key-Enabling Technologies (KETs)