This call (SESAR-ER4-14-2019) whics aims to improve airport capacity and resilience and ensuring safety and security levels, falls under the H2020-JTI-SESAR-2019 sub-programme of the Horizon 2020 Programme.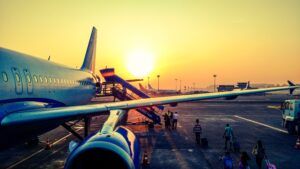 Weather has a significant impact on airport operations: snow, sleet, and freezing rain, which along with strong winds, low clouds, and reduced visibility may create dangerous conditions at or around an airport. These weather conditions can result in major disruptions in air traffic management, leading to delays and cancellations of hundreds or thousands of flights, thus affecting the plans of millions of travellers. Continuous development of weather forecasting solutions and technologies is paramount if airports are to cope with the rising passenger demand.
Application area 1: From Runway Visual Range (RVR) to Slant Visual Range (SVR):
The Runway Visual Range (RVR) is the distance over which a pilot of an aircraft on the centreline of the runway can see the runway surface markings delineating the runway or identifying its centre line. RVR (normally expressed in feet or meters) and has been in use for decades. By providing RVR information, pilots can appraise aerodrome visibility conditions and in particular determine whether these conditions are above or below the company, aircraft or aerodrome operating minima. RVR does not take into consideration important variables e.g. reduced visibility from other factors such as rain on the windshield of the aircraft.
The objective is to conduct research on what is necessary to complement the RVR with the Slant Visual Range (SVR), also known as Slant Runway Visibility. SVR is defined as the slant distance to the farthest high intensity runway edge light or approach runway light which a pilot will see at an altitude of 100 ft. (decision height) on the approach path or, if larger, the slant distance which would have a constant transmittance of 5.5 percent. The research shall investigate the potential operational benefits of providing a measured SVR to pilots in support of their own visual assessment of the visibility conditions, with the objective of improving safety and reducing the number of missed approaches caused by unexpected low visibility and/or the number of unnecessary diversions in borderline meteorological conditions.
Application area 2: Windshear and turbulence data prediction on approach:
The research objective is to define and perform initial validation of a concept to share from ground to cockpit predictions of windshear and turbulence on approach (with a focus on final approach) based on pilot reports, ground measurements, or a combination of both. The research must provide an initial analysis of the potential safety benefits of the concept, as well as of its cost.
Deadline
10th of September, 2019
More information