We know digital technology is radically changing the way people work and many of tomorrow's jobs can't even be imagined today. But education systems are struggling to interpret what this imperative means for their pupils.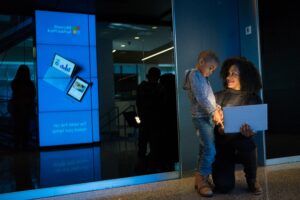 Teachers and education authorities are doing their best to try and make their students digitally literate. Safety online, forays into programming, and building circuits are finding their way onto some syllabi. But the approach is far from uniform, doesn't go far enough and all too often it is only the well-funded schools that have the means to try and prepare their pupils for what is around the corner.
As early as 2013 the European Commission noticed that that the challenge is not the lack of technology in schools but the huge variation in the use of technology, meaningfully, in education, (European Commission, 2013, Survey of schools: ICT in education). In addition to this, most use of technology in education and training today does not support 21st-century learning skills. In many cases, new technologies are simply reinforcing old ways of training and learning in current school settings and very often they are introduced according to a narrow perception as being suitable only for talented children.
The EU-funded eCraft2Learn project set out to challenge the status quo and foster the recognition that the ability to make and programme technological equipment promotes knowledge and skills that are valuable for every citizen. The project aimed to reinforce personalised learning and teaching in STEAM education (science, technology, engineering, arts and maths), and to assist the development of 21st century skills that promote inclusion and employability for youth in the EU.
The team harnessed, and contributed to, existing technical platforms such as Arduino and Raspberry Pi electronics, cloud-based 3D printer simulators, and maker-community-generated content. To help educators embrace this new approach, the team has also developed a space for teachers.
eCraft2Learn is also addressing business needs. They have made sustainable, collaborative networks with local industries in a bid to enable students to become project-solving, ambitious entrepreneurs.
More Information
Access to the full news