The 21st EU-China Summit took place on 9 April in Brussels, providing a forum for engagement at the highest level and for advancing the relationship as regards the bilateral and multilateral agendas.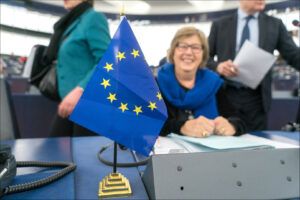 A realistic, assertive and multi-faceted EU approach
While China's economic and political influence makes it a vital partner for the European Union, as well as vice-versa, there is a growing appreciation in Europe that the balance of challenges and opportunities presented by China has shifted. In line with last month's Joint Communication on China and the discussion among EU leaders at the March European Council discussion, the EU pursues a realistic and multi-faceted approach with a view to ensuring fair, balanced and mutually-beneficial relations. The EU will work for a more balanced economic relationship with China while at the same time pursue deeper engagement on global and multilateral issues, including reform of the World Trade Organisation.
In addition to the Joint Summit Statement, which demonstrates the breadth and depth of EU-China cooperation, a number of other concrete deliverables were agreed at the Summit, including:
Preserving the international rules-based trade system and enhancing bilateral trade and investment
At the Summit, the EU and China confirmed their firm support to the rules-based, transparent, non-discriminatory, open and inclusive multilateral trading system with the World Trade Organisation (WTO) at its core. Building on the work of the joint working group on WTO reform established at last year's summit, they will intensify discussions with a view to strengthening international rules on industrial subsidies.
The shared objective of equitable and mutually beneficial cooperation in bilateral trade and investment was one of the key topics discussed. The EU and China reiterated their willingness to provide each other with broader, non-discriminatory market access. With this in mind, the parties will work expeditiously on a number of key market access barriers ahead of the next EU-China Summit.
Tackling global and regional challenges together
Beyond trade and investment, China has a responsibility to contribute to a rules-based global order, which can be decisive for ensuring effective multilateral responses to global challenges. EU-China cooperation has already proven crucial, from the fight against climate change to upholding the Joint Comprehensive Plan of Action on Iran's nuclear programme.
In the same way, during the Summit, both sides discussed issues such as security cooperation, cooperation in judicial matters to fight online criminal activities, improvement of human rights, sustainable EU-China connectivity, challenges of the environment, as well as urban and regional development.
More information
Access the complete news
Related document: State of play of EU-China relations
Related infographics: The EU and China are strategic trading partners