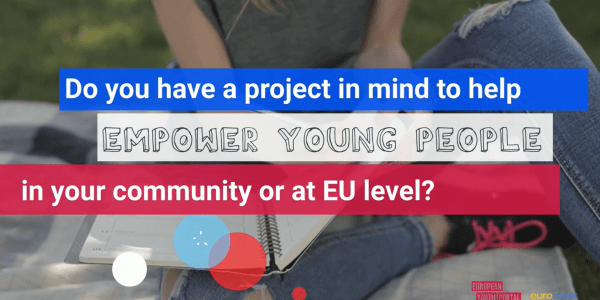 Erasmus+ supports student mobility and much more. You can receive funding from the "Youth Participation" action to carry out activities addressing topics such as youth participation, media literacy and European values – join with your friends or as a youth organization and make a concrete change in your community!
Activities should empower young people and support their active participation in democratic life, they can be seminars, workshops, awareness campaigns, virtual and face-to-face debates, role plays, simulations …. They can be small-scale projects in your community, as well as broader actions at national or European level.
Activities should follow one or more of the following objectives:
participation in civic society;
Common European values and fundamental rights and European integration process (e.g. contribution to the EU Youth Goals);
digital skills and media literacy;
bringing together young people and decision-makers at local, regional, national and transnational level and/or contributing to the EU Youth Dialogue.
Projects can last from 3 to 24 months.
The maximum grant awarded per project is EUR 60,000. It can cover costs related to coaching, inclusion support, travel and other expenses related to the organization of events.
Calling entity
European Youth Portal.
Target group
Informal group of at least 4 young people aged 13-30, including a leader of at least 18 years old, or apply as part of a youth organization (e.g. youth center, non-governmental organization, municipality).
Application Deadline
Applicants must submit their grant applications by the following dates:
February 23 at 12:00:00 (noon Brussels time) for projects starting between June 1 and December 31 of the same year.
October 4 at 12:00:00 (noon Brussels time) for projects starting between January 1 and May 31 of the following year.
More information