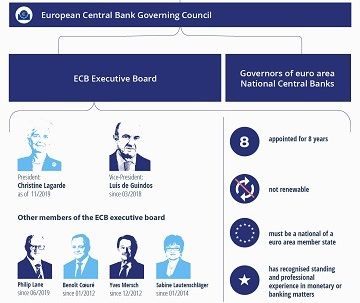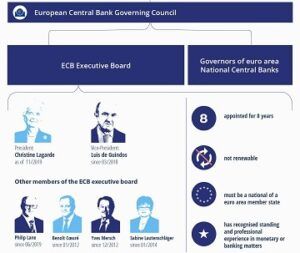 The European Council appointed Christine Lagarde to be the President of the European Central Bank for a non-renewable term of 8 years.
Christine Lagarde will replace the outgoing President, Mario Draghi, as of 1 November 2019.

Background
On 2 July 2019, the European Council considered Christine Lagarde to be the appropriate candidate for President of the European Central Bank. The Council (Economic and Financial Affairs) then issued a formal recommendation on 9 July 2019. The European Parliament and the European Central Bank delivered their opinions to the European Council, respectively on 17 September 2019 and on 25 July 2019.
The ECB executive board is responsible for the implementation of euro area monetary policy, as laid down by the ECB governing council. It is composed of the President, the Vice President and four other members, all appointed for a non-renewable 8-year term. The governing council is composed of six executive board members and the governors of national central banks of the euro area member states.
More information
European Council Decision on the appointment of the President of the European Central Bank