Virtual currencies such as Bitcoin, Monero, Ethereum, Litecoin are more and more frequently used by criminals in performing their illegal activities and for hiding the proceeds of their crime. Law enforcement agencies around Europe do manage to track down and seize virtual currencies in more and more cases thanks to the ongoing investment into digital investigation capacities and the accumulated knowledge and experience.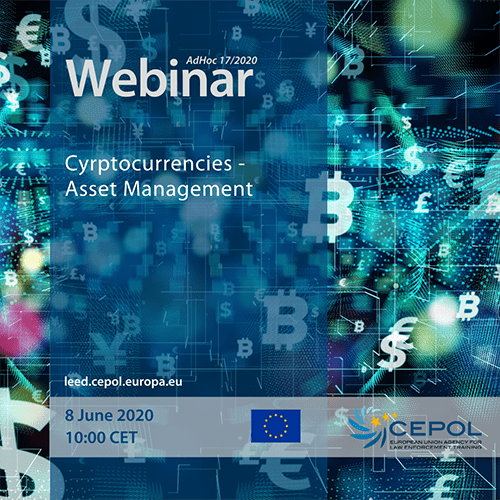 Nevertheless a number of questions remain unanswered with regard to the management of seized cryptocurrencies. How to store them securely? Should the state exchange the seized cryptocurrencies to normal currency or not? If yes, when to sell the virtual currencies? Who shall bear the risks of the volatility of the value of the seized virtual currencies? To whom and how shall the state sell virtual currencies? In what amount should the virtual currencies be sold in order to maximise the revenue? (As not many potential buyers would purchase 10s of bitcoins in one sale due to the large value.) How to administer the storage or the procedure of sale? Is it sensible to use the scarcely available cryptocurrency expertise in police organisations for the management of crypto assets or these experts should conduct and facilitate intelligence and investigation actions instead?
The overall objective of this online training event is to show how the Belgian Federal Police found a flexible and economical solution to these problems by procuring an external company to provide these essential services regarding cryptocurrency management. The webinar will be supported by Belgian criminal police expert and an external cyrptocurrency consultant.
Target Audience
International cooperation and asset recovery specialists, law enforcement officers specialised in money laundering and financial investigations, serious organised crime investigators. Police, customs, judiciary, FIU, ARO officers are all welcome.
Date
8 June 2020 – 10:00 – 11:30 (CEST)
More information