Launched by ALL DIGITAL , the ALL DIGITAL Awards celebrate the achievements of individuals and organisations across Europe that enable people to transform and enrich their lives through the benefits and opportunities created by digital technologies.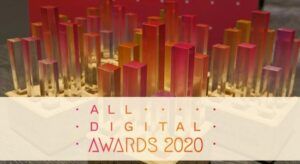 In 2019, individuals and organisations can submit their proposals in the following categories:
The jury will choose three finalists in each category who will then be invited to attend the ALL DIGITAL Summit 2020 in Berlin, Germany, on 7-8 October 2020.
The Awards ceremony will be held on 7 October 2020.
Award winners (one in each category) will be entitled to free accommodation, 1 person for 2 nights and will also have their travel expenses (up to 300 EU) covered by ALL DIGITAL.
Who can apply
Organisations and individuals who work in wider Europe (not limited to EU28) in the field of enhancing digital skills.
How to apply
Nominations must be completed in English and submitted through online forms, indicated in each category description.
Deadline
31st July 2020
For more information