In her address during the Conference of Speakers of the European Union Parliaments, European Parliament President Roberta Metsola spoke about the importance of being united in defending shared values of democracy and the rule of law. Besides making reference to the war in Ukraine, President Metsola spoke about the importance of having an open and working European Parliament even during the COVID-19 pandemic.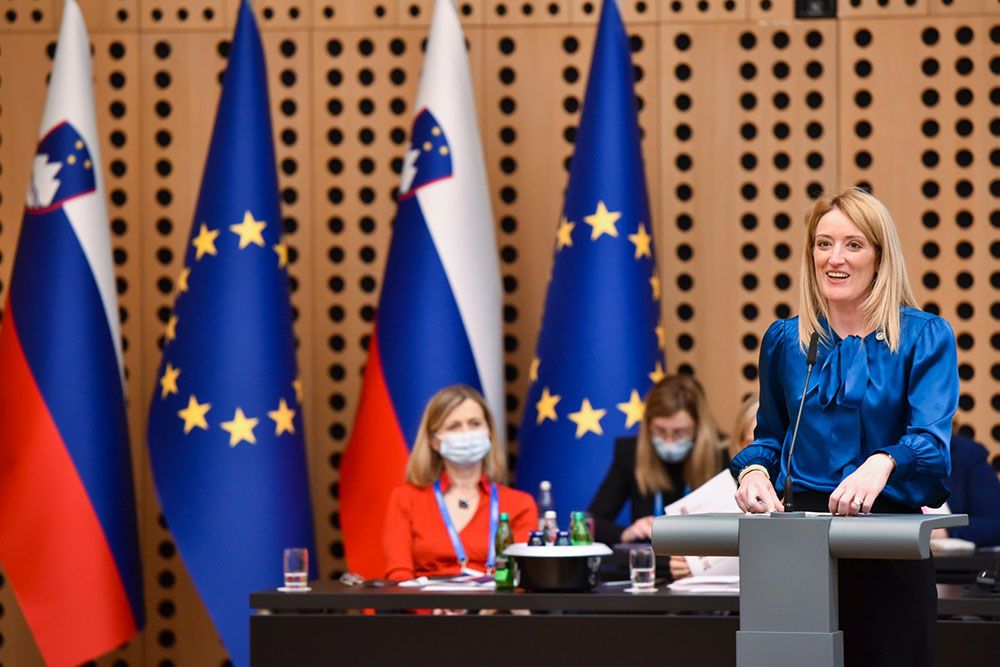 Thank you Slovenia for your invitation to host us today and tomorrow. Congratulations on your successful Presidency of the Council of the European Union, that is a testament on your ability to lead and shape the debate on the European level.
It is an honour for me to be able to speak to you today, and know that we stand united in defending shared values of democracy and the rule of law.
Tragically, it is over four weeks now, since war has returned to Europe and Putin's shelling continues to destroy lives and dreams, leaving Ukrainian cities and roads in ruin; killing thousands, wounding more; scarring Ukrainian society and forcing millions to flee for shelter.
Beyond the destruction of Ukraine, Russia's invasion of a sovereign state is part of the Kremlin's attempt to destabilise Europe and the rule-based world-order. And this is a path that we will not allow him to walk unchallenged. Those responsible for war crimes will be held to account in our International Criminal Court.
Meanwhile, we are seeing a tectonic shift in the European Union's security and defence policy. And the European Parliament is prepared to use its legislative and budgetary powers to enable the rapid creation of a genuine security and defence Union, when the time comes.
The Ukrainian people are showing the world that no amount of aggression or terror can intimidate. They are showing us what it means to be brave and what it means to stand up to autocracy.
This is why – beyond the financial, medical and military aid that we can provide – it is so important, that we recognise Ukraine's European perspective. And it is important for the European Parliament to support Ukraine's aspiration to be a candidate country for accession.
Further to President Zelenskyy's historic speech to the European Parliament on the 1st of March, last week I addressed the Verkhovna Rada to reiterate the European Union's unwavering support for Ukraine. Europe stands for a way of life that embraces freedom and democracy and that there is no doubt, that this Europe belongs to them too.
This is why – as Ukraine fights a war – the European Parliament is in close and permanent contact with the Rada. We hold regular bilateral discussions with Verkhovna Rada Chair Ruslan Stefanchuk and many multilateral discussions too.
The European Parliament also stands with the Rada in protecting Parliamentary democracy in practical terms.
Together we have developed a bilingual EP-RADA web space to give Ukraine's democratic voice an online presence and help share content, so that the world can hear the Rada's voice. We have shipped vital IT equipment to Kiev. We have also created the Ukrainian Civil Society Hub in our premises at the heart of Brussels, to allow Ukrainian civil communities in exile to do their work. Politically and logistically, they are handling an immense amount of requests for help and support.
We have reached out to 160 Parliaments on all continents to support Ukraine's democratic calling. And we are attentive to a people's voice of resistance in Russia that condemns the war in spite of repression.
We are also keeping a close eye on the situation in neighbouring countries: in the Western Balkans, Georgia and in particular Moldova, for which a further €150 million in financial assistance was approved by the European Parliament last week. We must act decisively to give these countries and their leaders, who are fighting Europe's war, clarity and hope with regard to their EU perspective.
Almost 3.6 million people have been forced to leave their country at war, and the generosity displayed by European citizens in welcoming fleeing Ukrainians, is heart-warming.
Ordinary European citizens are opening their homes and also their hearts. I am proud to see that so many parliaments have taken decisions to stand up for Ukraine.  It is the proof that our parliamentary democracies are functioning right.
Over the past two years, with a global pandemic sending state institution into lock-down, the legislative and scrutinizing role of our parliaments was put to the test.
It was difficult, but in spite of this crisis, the European Parliament stayed open, quickly adopting new working methods. It upheld its parliamentary role in co-legislating on the response to COVID and on a post-pandemic recovery plan. This was not easy, but we did it.
And throughout, we kept close contact with our parliamentary network around the world. We held remote inter-parliamentary meetings and held regular, virtual exchanges with our counterparts – although it is nice to be here together, in the same room.
The wisdom we have collected during the pandemic allows us to rethink the future of diplomacy and to consider online talks as a valuable complement to traditional inter-parliamentary contacts.
Though face-to-face encounters remain essential, digital diplomacy has added a true valuable dimension to our exchanges, giving us the chance to dialogue more frequently and more regularly while circumventing some of the difficulties of travel or the complications of schedule-setting.
And this is good news as we prepare for a new future where, as Europeans, we will continue to demonstrate that we stand united in diversity and united against adversity, in our desire to defend the rule of law.
I am glad to have you as partners in upholding parliamentary democracy. I look forward to our discussions today and tomorrow, as well as to the months ahead, although we know they will be difficult. We will defend the European values together.
Thank you for all your work.
More information: European Parliament – Press Release