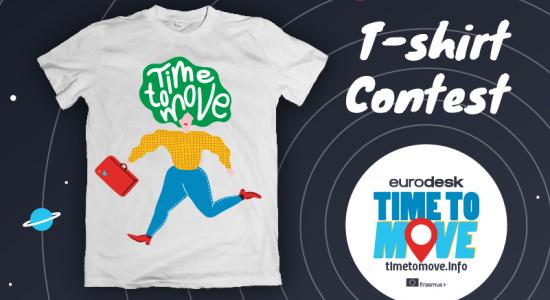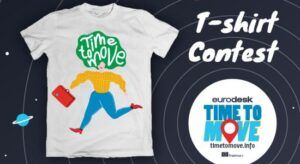 Time to Move campaign is a collection of events organised by Eurodesk all over Europe during the month of October to promote mobility opportunities for young people.
For this campaign Eurodesk is inviting young people between 13 and 30 years old and from one of the eligible countries, to join the contest, design a Time to Move themed T-shirt that best represents the spirit of the campaign, share it with Eurodesk and have a chance to win prizes that will help them kickstart their journey around Europe.
Guidelines
For the design, they can take a photo, create an illu stration digitally, draw by hand on paper, use only text or choose any other technique.
Prizes​
– ​First places – Interrail Global Pass (to be used for 7 days within 1 month);
– 5 contestants with outstanding creations – Eastpak backpack;
– Public voting winner – Eastpak luggage.
Eligible countries
Austria, Belgium, Bulgaria, Croatia, Cyprus, Czech Republic, Denmark, Estonia, Finland, France, Germany, Greece, Hungary, Iceland, Ireland, Italy, Latvia, Liechtenstein, Lithuania, Luxembourg, North Macedonia, Malta, The Netherlands, Norway, Poland, Portugal, Romania, Serbia, Slovakia, Slovenia, Spain, Sweden, Switzerland, Turkey, Ukraine, United Kingdom.
Deadline
to participate 31st October 2019, 12:00 pm CET
For more information