The President of the European Parliament, Roberta Metsola, will travel to Madrid on January 26 and 27, on an official visit in which she will be received by HM King Felipe VI, and will meet with the President of the Government, Pedro Sánchez, among other authorities. In 2022, Metsola also made two trips to Santander and Barcelona.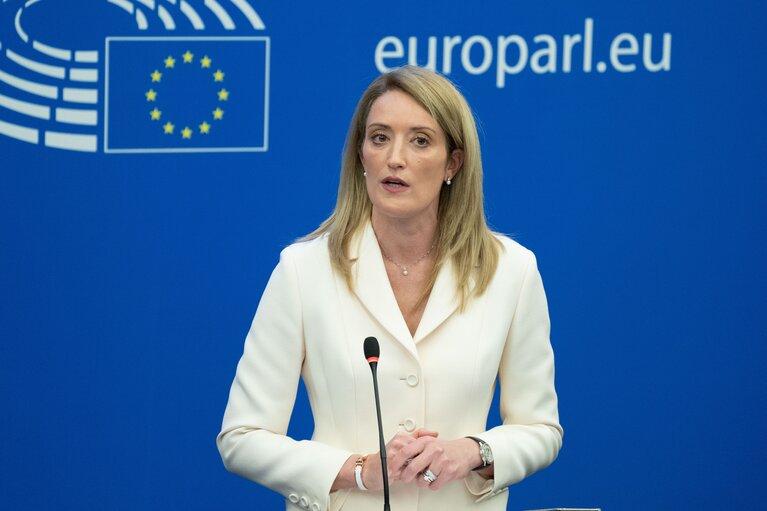 La presidenta del Parlamento Europeo, Roberta Metsola, viajará a Madrid el 26 y 27 de enero, en una visita oficial en la que será recibida por SM el Rey Felipe VI, y se reunirá con el presidente del Gobierno, Pedro Sánchez, entre otras autoridades. En 2022, Metsola también realizó dos viajes a Santander y a Barcelona.
Thursday, January 26
Upon her arrival in Madrid, the President of the European Parliament will hold a meeting with the President of the Government, Pedro Sánchez, at 6:30 p.m. at the Moncloa Palace. Afterwards, President Metsola will travel to the Real Academia de Bellas Artes de San Fernando (c/ Alcalá, 13) where she will receive the Woman of the Year Award, granted by the association Women in a Legal World.
Friday, January 27th
The President will be received by His Majesty King Felipe VI at 10:00 a.m. at the Zarzuela Palace. Afterwards, she will travel to the Senate, where she will have a bilateral meeting at 11:30 a.m. with the President of this institution, Ander Gil, and will later participate in the ceremony on the occasion of the Official Holocaust Remembrance Day (12:00 p.m.).
More information: European Parliament