The European Commission sets out a new EU Security Union Strategy for the period 2020 to 2025, focusing on priority areas where the EU can bring value to support Member States in fostering security for all those living in Europe. From combatting terrorism and organised crime, to preventing and detecting hybrid threats and increasing the resilience of our critical infrastructure, to promoting cybersecurity and fostering research and innovation, the strategy lays out the tools and measures to be developed over the next 5 years to ensure security in our physical and digital environment.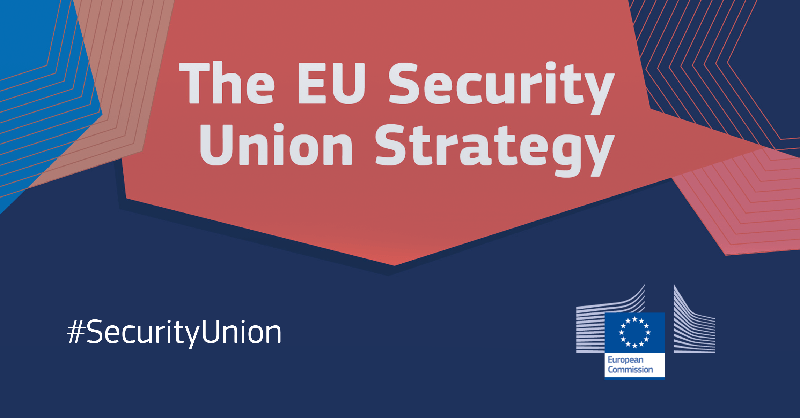 This strategy lays out 4 strategic priorities for action at EU level:
 A future-proof security environment
Individuals rely on key infrastructures, online and offline, to travel, work or benefit from essential public services; and attacks on such infrastructures can cause huge disruptions. Preparedness and resilience are key for quick recovery. The Commission will put forward new EU rules on the protection and resilience of critical infrastructure, physical and digital.
Tackling evolving threats
Criminals increasingly exploit technological developments to their ends, with malware and data theft on the rise. The Commission will make sure that existing EU rules against cybercrime are fit for purpose and correctly implemented, and will explore measures against identity theft.
Protecting Europeans from terrorism and organised crime
Fighting terrorism starts with addressing the polarisation of society, discrimination and other factors that can reinforce people's vulnerability to radical discourse. The work on anti-radicalisation will focus on early detection, resilience building and disengagement, as well as rehabilitation and reintegration in society. In addition to fighting root causes, effective prosecution of terrorists, including foreign terrorist fighters, will be essential – to achieve this, steps are under way to strengthen border security legislation and better use of existing databases. Cooperation with non-EU countries and international organisations will also be key in the fight against terrorism, for instance to cut off all sources of terrorism financing.
A strong European security ecosystem
Governments, law enforcement authorities, businesses, social organisations, and those living in Europe all have a common responsibility in fostering security.
The EU will help promote cooperation and information sharing, with the aim to combat crime and pursue justice. Key measures include strengthening Europol's mandate and further developing Eurojust to better link judicial and law enforcement authorities. Working with partners outside of the EU is also crucial to secure information and evidence.  Cooperation with Interpol will also be reinforced.
More information
Press release. European Commission
Communication on the EU Security Union Strategy
Questions and Answers: Delivering on a Security Union
Press release: Delivering on a Security Union: initiatives to fight child sexual abuse, drugs and illegal firearms