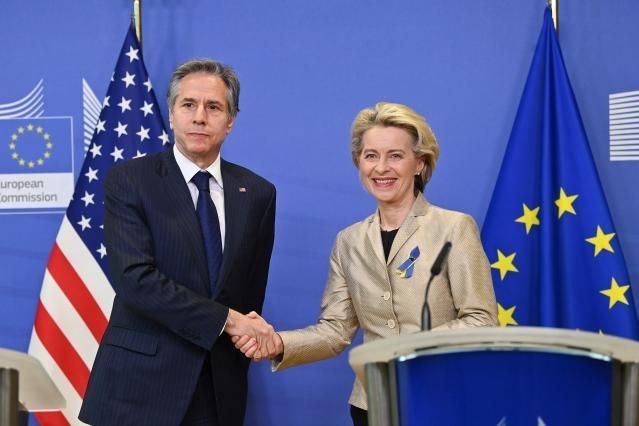 Dear Secretary of State Blinken, dear Tony,
A very warm welcome. I am very glad to have you again here in the Berlaymont. Your visit to Europe illustrates how very close the cooperation is between the European Union and the United States in response to Putin's reckless invasion of Ukraine. Thanks to this coordination, we have together designed, developed and deployed sanctions in record time, sanctions that demonstrate our determination to make Putin pay a price for his war. We do not take these measures lightly, but it is clear we need to act.
With these measures, the Central Bank cannot use a significant share of its reserves to defend the rouble, now in free fall. The Central Bank has had to raise interest rates to 20%, stoking inflation. Significant commercial banks are cut-off from global markets and from SWIFT, curtailing their ability to finance the economy. The stock exchange in Moscow remains closed since the beginning of this week. One after another, Western companies announce their own measures, stopping production, investment and sales. The EU-US cooperation is at the core of this effective response, and it has pulled together an ever-growing number of countries that apply identical or similar sanctions. Our G7 partners, UK, Canada and Japan, but also countries like Norway, Switzerland, South Korea, Australia. By now, over 40 countries partially or completely aligned with our sanctions.
This is testimony to the determination of the global community to reject this invasion. One only needs to see the result of this week's United Nations General Assembly. 141 countries, an overwhelming majority, supported the resolution condemning Russia for its brutal invasion. Only 4 countries out of 193 stood by Russia. It was Belarus, North Korea, Syria and Eritrea. President Putin is increasingly isolated in the world community. But in the face of the world's protests, Putin's army carries on. Bombings and missile attacks on civilian targets are intensifying.
Rest assured, the European Union and the United States will continue to stand by Ukraine and its courageous people, and its steadfast leadership. The scale of the humanitarian catastrophe, there, in Ukraine, that is unfolding, really worries us. Europe is seeing destruction and displacement on a scale not seen since the darkest days of the last century. The European Union, as Ukraine's neighbour, is sparing no effort. We are providing EUR 500 million of humanitarian aid immediately and more will come. We are working fast to establish civil protection hubs in Poland, in Slovakia and in Romania. And we are also doing everything we can, with international organisations and NGOs, to set up humanitarian corridors that stretch inside Ukraine. Desperately needed humanitarian aid must be able to reach all parts of Ukraine. And civilians must be allowed to escape cities under siege.
Finally, the European Union has triggered, for the first time ever, the so-called Temporary Protection Directive. What is it? It effectively opens up residency rights for most refugees to live and work in the European Union, to have access to health services or, for example, schools for at least a year. We know that this conflict is far from over. And to be very clear, we are ready to take further severe measures if Putin does not stop and reverse the war he has unleashed. We are determined, we are united.
And it is a pleasure to have you here, dear Tony.