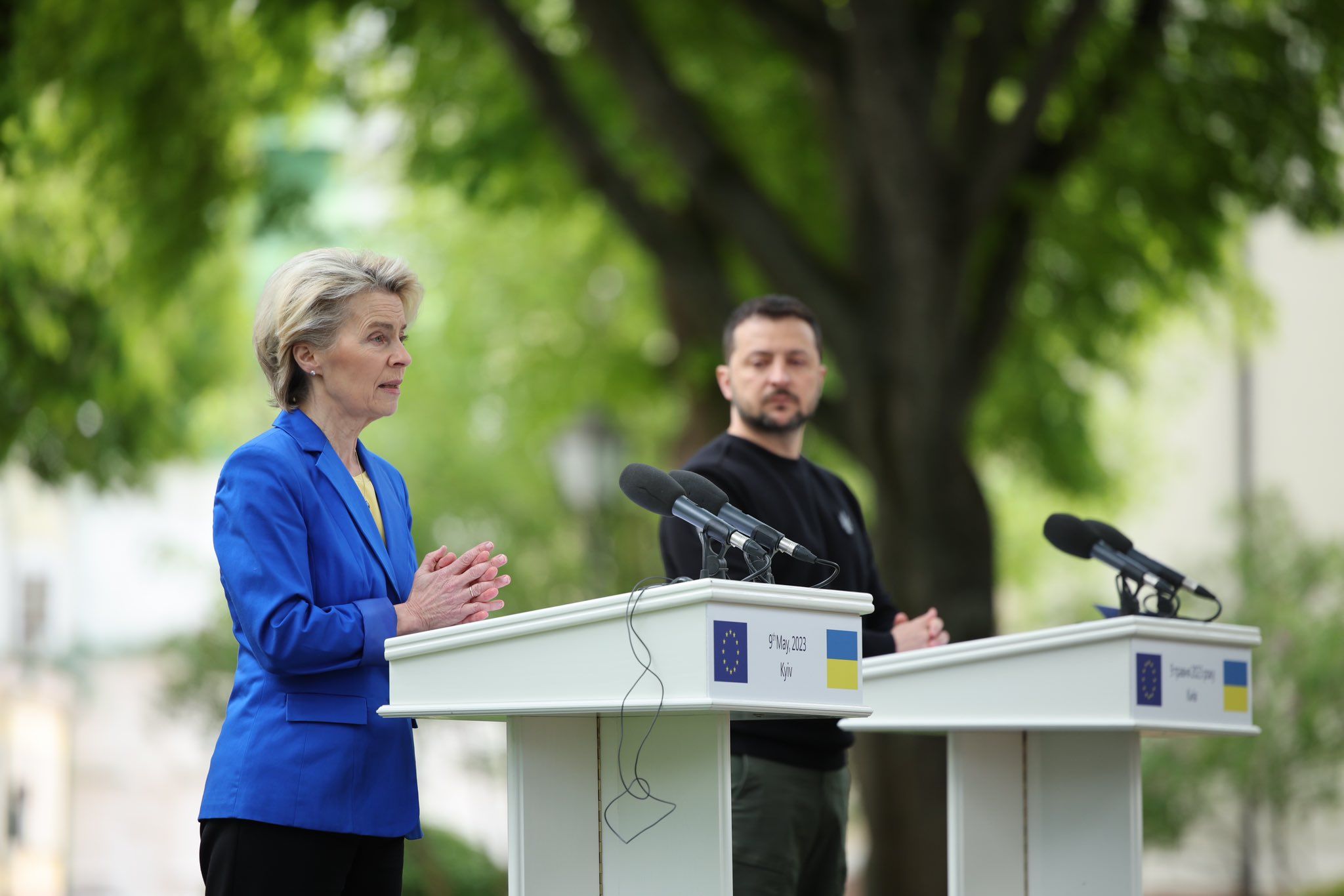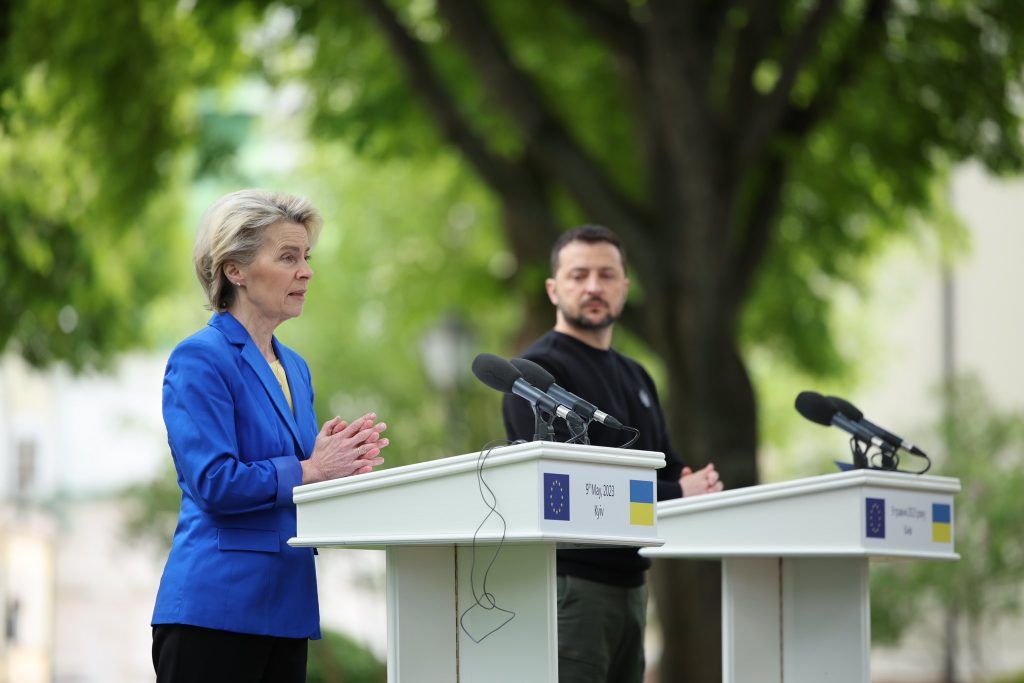 Dear President Zelenskyy, dear Volodymyr,
It is an honour and it is a privilege to be here on the 9 May. The 9 May is a day to celebrate peace and unity in Europe, to remember the lessons of our history and to commit to leave a better future for the next generations. So it is very fitting to be here in Kyiv to commemorate and to celebrate the 9 May, dear Volodymyr. And let me warmly welcome your decision to make the 9 May Europe Day also in Ukraine.
Kyiv as the capital of Ukraine is the beating heart of today's European values. Ukraine is on the front line of the defence of everything we Europeans cherish: our liberty, our democracy, our freedom of thought and of speech. Courageously, Ukraine is fighting for the ideals of Europe that we celebrate today. In Russia, Putin and his regime have destroyed these values. And now, they are attempting to destroy them here in Ukraine. Because they are afraid of the success you represent and the example you show. And they are afraid of your path to the European Union.
But the aggressor has already dramatically failed. Ukraine has resisted the attack and is fighting back successfully. And why is that? First and foremost because, as a free society, Ukraine can count on the unquenchable bravery of its millions of women and men. They fight for our European values, while the invaders have been dragged out of prisons and picked off the streets to be sent to the front line.
In this fight, the European Union and its Member States stand shoulder to shoulder with Ukraine. The 9 May also symbolises something else, and that is solidarity. A solidarity born out of the lessons of the great conflicts of the 20th century. That is the spirit of our democracies. Dear President Zelenskyy, I am here today to assure you that you can count on that very same solidarity for as long as it takes.
We had a very good discussion. We are working on different strands. Let me report on some of them: The first priority is to help to secure the ammunition Ukraine needs. You know that we are working along three tracks. The fastest track is the immediate release of ammunition from Member States' stocks. We have allocated EUR 1 billion to this and it is working. Significant stocks of ammunition have been delivered or are on their way to Ukraine, but more needs to be done, urgently. Therefore, the second track we agreed last week provides EUR 1 billion from the European Peace Facility for the procurement of 155- and 152-millimetre ammunition by Member States. To accelerate this work, the third track will help the Member States to ramp up the production, scale up the production and speed up the delivery of ammunition to meet Ukraine's and the Member States' needs.
The second topic is financial support. We continue our vital financial support to Ukraine. You know that we have an EUR 18 billion package for the whole year of 2023, of which we have already disbursed by now EUR 6 billion. This is contributing significantly to closing Ukraine's budgetary gap. But of course, we are already working on financial support beyond 2023.
The third topic has been mentioned: the sanctions. We continue to do everything in our power to erode Putin's war machine and his revenues. Our sanctions are working. And we reduced, for example, our imports from Russia by nearly two-thirds, thus depriving Russia of crucial revenue streams. So, we have already imposed a heavy price on the Kremlin through the ten successive sanctions packages. Last Friday, the Commission adopted its proposal for the 11th sanctions package. The focus of this package is now on cracking down on circumvention. We are doing this in very close coordination with our international partners, particularly with the G7.
Let me deep dive very briefly on three elements in this package. First, we are sharpening our existing tools: We are adding more products to our transit ban. For example, advanced tech products or aircraft parts that are going to third countries via Russia will no longer end up in the Kremlin's hands. However, we will need to take additional action. We recently see a growth of highly unusual trade flows between the European Union and certain third countries. These goods then end up in Russia. This is why, secondly, we are proposing a new tool to combat sanctions circumvention. If we see that goods are going from the European Union to third countries and then end up in Russia, we could propose to the Member States to sanction those goods' export. This tool will be a last resort and it will be used cautiously, following a very diligent risk analysis, and after approval by EU Member States. But there should be no doubt that we work against sanctions circumvention. The third element in this package is: We propose to ban 'shadow' entities from Russia and third countries who are intentionally circumventing our sanctions. This is as far as the 11th sanctions package is concerned.
The fourth work strand we have been discussing is beyond the war. Let me touch upon the future and Ukraine's path towards membership of the European Union. The Commission clearly set out seven steps that Ukraine needs to take before the Commission can recommend to Member States to launch the accession negotiations. Ukraine is tirelessly and intensively working on these seven steps, despite the difficulties of carrying out reforms amidst a full-blown war. I want to pay my deep respect for this outstanding work. You know you can count on our support and our expertise throughout the whole process. Work needs to continue. The Commission will report to the Council. First orally in June, but most importantly then in writing in October.
Dear President Zelenskyy,
You mentioned the grain topic. This is a challenging situation, and we need solutions. The immediate priority now is that the grain transit goes seamlessly and at the lowest possible cost outside of Ukraine towards the European Union. This requires a very close cooperation of the different stakeholders. Therefore, we will jointly set up a coordination platform so that we will get these solidarity lanes fully functioning again. This is important.
Dear Volodymyr,
Ukraine has been fighting for the ideals of Europe that we celebrate today, to create lasting unity and peace, to represent the values of freedom, diversity and humanity that Europe is built on. We should never forget that peace in Europe seemed impossible, improbable and far too distant for much of the last century. But it was achieved, despite the pain and despite the divisions of war. As we stand here today in a country senselessly attacked, some might think it is impossible, improbable or too distant to talk about a free and peaceful Ukraine in the European Union. But Europe is about making the impossible possible. And so is Ukraine.
Slava Ukraini.
Source: European Commission