In the framework of the European Commission's project Erasmus+ Virtual Exchange, the second Online Euro-Med Debate Competition brings together debate teams from diverse backgrounds and students from higher education institutions to meet online and debate topics of their choice with the support of a resource network of debate Team Leaders, Trainers and Adjudicators.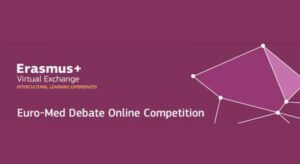 When
On 22, 23, 29 and 30 August 2020, participants will be engaged in intercultural online debates; they will practice the essentials of effective communication (building arguments, listening and rebutting, structuring and presenting of speeches, intercultural awareness); and will be able to enhance their English language skills.
How to participate
New team leaders' applicants need to register to join the Training and select "English" and then "Competition" as their cycle. They then need to select one of the available training sessions.  After completing their Team Leaders Training session, they will be expected to train their team of 6 debaters. Team leaders will be contacted to register their Team members in the Online Euro-Med Debate Competition by 12 August 2020.
Dead line
19 July 2020
More information
Register here