The EUIPO's Ideas Powered for Business SME Fund has passed its target of helping 8 000 EU SMEs with advice on IP rights and financial support for trade mark and design applications. Businesses from all EU countries have applied to the IP Voucher scheme since the beginning of the year, with the largest number of SMEs coming from Spain (886), followed by Germany (860) and Italy (773).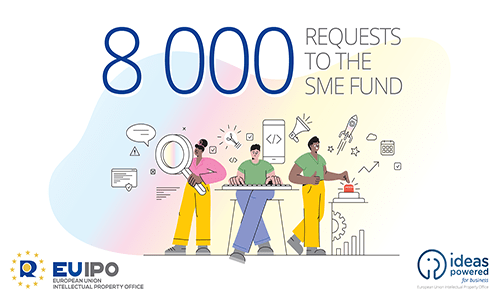 With the fourth application window to the SME Fund now closed, more than 13 000 trade marks and over 3 400 designs have been requested at national, regional and EU level. Applications for the IP pre-diagnostic services are also on the rise, with 487 requests to date.
A new application period its open.
Ideas Powered for business
The Ideas Powered for business SME Fund is a €20 million grant scheme helping European small and medium-sized enterprises (SMEs) access their intellectual property rights.
A European Commission initiative, the SME Fund is implemented by the EUIPO to support businesses in developing their IP strategies and protecting their IP rights, at national, regional or EU level.
How to apply?
Follow the checklist to check your SME status and determine whether or not you're eligible to apply.

Submit your application and all supporting documentation to the SME Fund. You will receive an email acknowledging receipt of your application.

On notification of a positive decision, you have 30 days to:

Apply for an IP pre-diagnostic service. IP pre-diagnostic services are available via the national offices offering this service.
Apply and pay for your trade mark and/or design. Applications for the registration of trade marks and designs can be made at the national intellectual property offices (national level), in the Benelux Office of Intellectual Property (covering Belgium, The Netherlands and Luxembourg; regional level), or with us at the EUIPO (covering all the Member States of the EU).

Finally, once you've paid for the required services, submit your request for reimbursement using the link given in the grant decision. You will receive an email acknowledging receipt of your request.
Payment will be made within one month, subject to the approval of the information and documentation submitted. Beneficiaries will be notified by email accordingly
More information