The European Commission has granted a conditional marketing authorisation (CMA) for the COVID‑19 vaccine developed by BioNTech and Pfizer, making it the first COVID-19 vaccine authorised in the EU. This authorisation follows a positive scientific recommendation based on a thorough assessment of the safety, effectiveness and quality of the vaccine by the European Medicines Agency (EMA) and is endorsed by the Member States.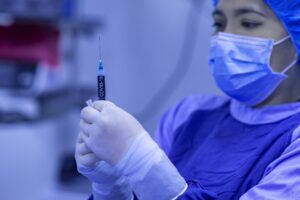 The President of the European Commission, Ursula von der Leyen, said: "Today we add an important chapter to a European success story. We approved the first safe and effective vaccine against COVID-19. More vaccines will come soon. Doses of the vaccine approved today will be available for all EU countries, at the same time, on the same conditions. The upcoming European vaccination days will also be a great moment of unity. This is a good way to end this difficult year, and to start turning the page on this pandemic. We are all in this together."
EMA's human medicines committee has completed its rigorous evaluation of Comirnaty, concluding by consensus that sufficiently robust data on the quality, safety and efficacy of the vaccine are now available to recommend a formal conditional marketing authorisation. This will provide a controlled and robust framework to underpin EU-wide vaccination campaigns and protect EU citizens.
"Today's positive news is an important step forward in our fight against this pandemic, which has caused suffering and hardship for so many," said Emer Cooke, Executive Director of EMA. "We have achieved this milestone thanks to the dedication of scientists, doctors, developers and trial volunteers as well as many experts from all EU Member States.
"Our thorough evaluation means that we can confidently assure EU citizens of the safety and efficacy of this vaccine and that it meets necessary quality standards. However, our work does not stop here. We will continue to collect and analyse data on the safety and effectiveness of this vaccine to protect people taking the vaccine in the EU."
Efficacy was calculated in over 36,000 people from 16 years of age (including people over 75 years of age) who had no sign of previous infection. The study showed a 95% reduction in the number of symptomatic COVID-19 cases in the people who received the vaccine (8 cases out of 18,198 got COVID-19 symptoms) compared with people who received a dummy injection (162 cases out of 18,325 got COVID-19 symptoms). This means that the vaccine demonstrated a 95% efficacy in the clinical trial.
Comirnaty is given as two injections into the arm, at least 21 days apart. The most common side effects with Comirnaty were usually mild or moderate and got better within a few days after vaccination. They included pain and swelling at the injection site, tiredness, headache, muscle and joint pain, chills and fever. The safety and effectiveness of the vaccine will continue to be monitored as it is used across the Member States, through the EU pharmacovigilance system and additional studies by the company and by European authorities.
More information