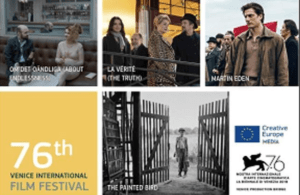 The 76th Venice Film Festival starts today featuring 12 films supported by the MEDIA programme – the EU's programme for supporting the European film and audiovisual industries.
Four of the MEDIA-supported films have additionally been shortlisted to compete for the Golden Lion: 'The Truth' by Hirokazu Kore-eda (France, Japan), 'About Endlessness' by Roy Andersson (Sweden, Germany, Norway), 'Martin Eden' by Pietro Marcello (Italy, France) and 'The Painted Bird' by Václav Marhoul (Czech Republic, Ukraine, Slovakia).
The Orizzonti competition that is dedicated to latest aesthetic and expressive trends in international cinema will feature MEDIA-supported 'Blanco en blanco' by Theo Court (Spain, Chile, France, Germany) and 'Madre' by Rodrigo Sorogoyen (Spain, France). The film 'Effetti Domino' by Alessandro Rosseto (Italy) will be screened in the Sconfini sectionthat is dedicated to art-house and genre movies, experimental and artists' films.
More supported films
Five more films supported by MEDIA will participate in the independent sections Giornate degli Autori as well as in the Venice International Film Critics Week held in parallel to the festival.
At the sidelines of the festival, the European Commission will also organise on Saturday the European Film Forum. 
For More Information
MEDIA-supported films at the Venice Film Festival