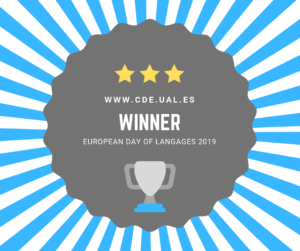 On Wednesday, 26 September we celebrated the European Day of Languages ​​2019, and the European Documentation Center organized a fun and informative activity in which information about its services and activities was offered, in addition to celebrating the linguistic richness of Europe.
During this activity, we celebrated a raffle of a complete kit of informative merchandising of the center, and the winners are:
AUGUSTA NARCISO FORMOSA PATE!!!
RAQUEL MUÑOZ MARÍN!!!
We would like to thank to all those people who participated and congratulations to the winners!
More information