Life ReNatural, the project with European funding, whose main objective is the rehabilitation of buildings with sustainable materials.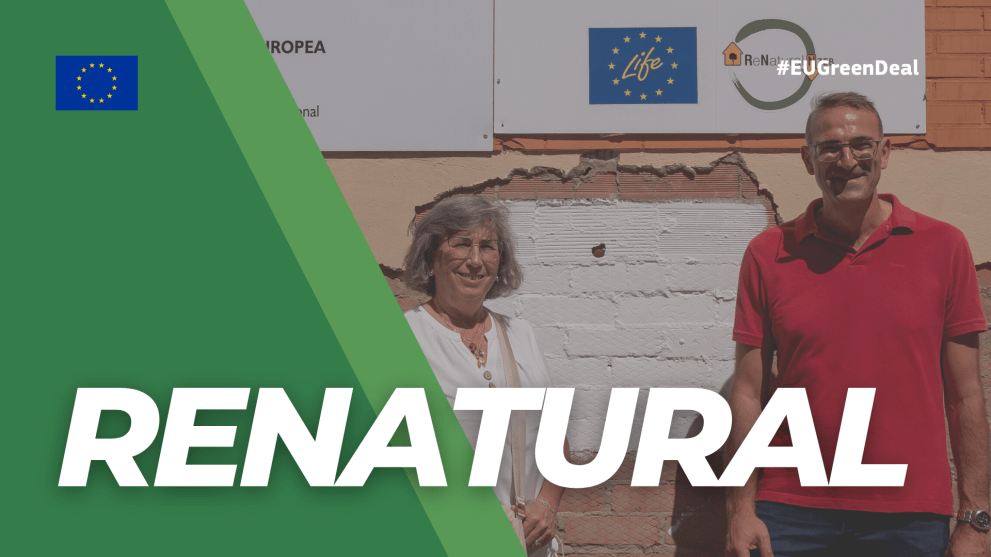 75 % of the European Union's building stock is energy inefficient. That is, every day, the buildings in which we live, work and spend most of the time, waste a lot of energy. Given the current context, improving the energy efficiency of homes and public buildings is a priority issue.
The Junta de Extremadura has been researching for a decade on how to rehabilitate homes with proximity materials and that convert the places where we work, reside and live in sustainable and energy efficient spaces. Thus LIFE ReNatural was born, a project with European funding, whose main objective is the rehabilitation of buildings with sustainable materials.
To date, through LIFE ReNatural, construction solutions have been developed for housing using rice husks, clay blocks and cork, materials that can be found both in Extremadura and Portugal and that have served to cover four social houses in the neighborhood of Santa Engracia, in Badajoz. Rice husk has been used to manufacture bricks and cork, hemp and kenaf have been used as thermal and acoustic insulators on decks and facades. The project has also reached other areas of the province of Badajoz, specifically the same philosophy is being applied to the rehabilitation of a public building in La Bazana and to the construction of four new social housing in Ribera del Fresno. In Mérida, a block of 16 social housing units in the Lázaro neighborhood is being rehabilitated.
With this philosophy, houses have been rehabilitated or built in Badajoz and Mérida
"We studied construction as a whole and its behavior. That is, we analyse the origin of the materials, the definitive use they will have and their subsequent recycling. With this, we seek that the project can be replicated in other places with raw materials native to the area in which it will be carried out", say Esther Gamero and Fernando Babiano, technical developers of the project.
Life ReNatural has, in turn, a social and inclusive character. One of the aims of the project is that the entire production phase of the materials is developed in the region. Therefore, they work with professional groups and local companies so that, in the not too distant future, the entire construction process can be local.
Getting European funding from the public administration
"Public administration has many requests and needs that are given priority over innovation projects like this. If it wasn't for programs like LIFE, we wouldn't have the opportunity to develop these lines of research," say Gamero and Babiano.
Esther, Fernando, would you encourage other public entities or private companies to opt for this type of aid?
Oh, of course. Accessing this type of aid allows you to open the mind, know new criteria and have a broader perspective of what can correspond to the administration. There are many funds earmarked for this type of project that, unfortunately, we often do not know.
How do you value the EU's role in supporting such innovation projects? 
It is very positive in all respects. It favors the exchange of knowledge since it promotes collaboration with other companies, which have partners in other countries. That is, it generates a lot of cooperation and allows you to have perspective on how things are done elsewhere and create very positive synergies in terms of innovation.
How can it benefit Extremadura that these types of initiatives are undertaken by the administration? What impact do you think it can have? 
This project has a social character. With ReNatural we have developed constructive solutions that are being applied in social housing for people with low resources. These energy efficiency solutions make homes consume less energy, which has a positive impact on their economy.
Five tips for any entity that intends to qualify for this aid 
The project that is presented must be mature, with the tasks and budgets well defined.
The objective must be achievable, reasonable and serve to improve society.
It is advisable to have partners who already have experience in the presentation of projects.
If funding is not obtained in the first attempt, do not get discouraged.
Incorporate EU recommendations to be better prepared in the next attempt.
More information: Representación de la Comisión Europea en España