The global demand for food supplements and specific bioproducts from natural sources for human use is increasing dramatically. Moreover, the greater the number of products with a healthy role, the better the results in both research and the market. Different compounds derived from organisms such as Omega-3 fatty acids and the carotenoid Astaxanthin have incredible market potential.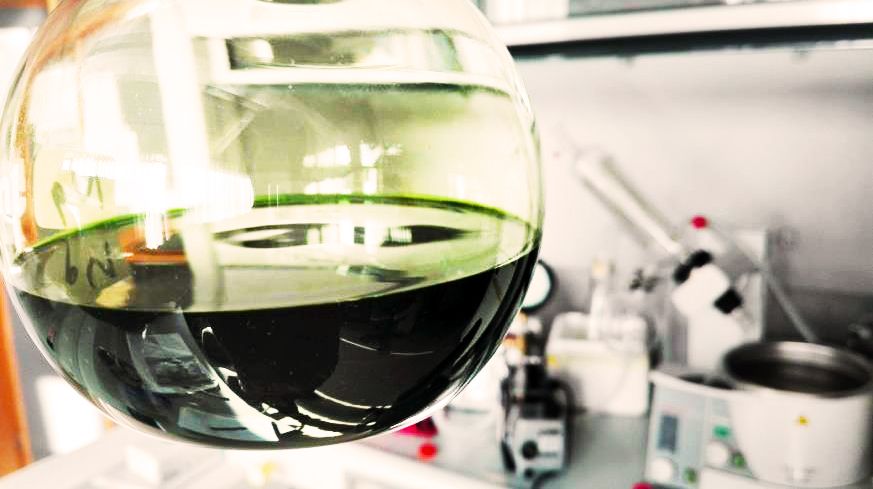 Omega-3 and Astaxanthin
Omega-3 is an essential oil required by the body for its proper functioning. It protects the body from cardiovascular diseases and improves the development and functioning of the skin, as well as the nervous and visual systems. Astaxanthin is characterised by its high antioxidant capacity (the elimination of oxygen free radicals, which are capable of producing cell damage). Astaxanthin is also able to cross the blood-brain barrier, providing both an antioxidant effect and anti-inflammatory protection in various organs such as the eyes and central nervous system cells. This unusual attribute makes this high value-added compound a potential substance for preventing serious diseases such as Alzheimer's and dementia.
Obtention
Traditionally, Omega-3 fatty acids were obtained from fish oil, usually salmon species and from Astaxanthin by chemical synthesis or other natural sources such as oceanic krill. The indiscriminate fishing of these aquatic species, together with the costly processes involved in chemical synthesis, meant that the production of these substances had a high economic cost, in addition to the significant deterioration of ecosystems and the environment involved. It must also be considered that the animal origin of these compounds made them incompatible with the vegetarian and vegan sectors, the main consumers of healthy substances.
What is the VOPSA2.0. project?
The VOPSA2.0 project (Omega-3 and Astaxanthin for human consumption) has received funding from the European Union's Horizon 2020 research and innovation programme under the SME Facility Phase II grant agreement No 738661. The project has been led by NEOALGAE, an Asturian biotechnology SME whose mission is to contribute to the nutrition and health of people, as well as to the care of the environment. Their mission is accomplished through the development of different products based on the microalgae cultivated by the company itself, which guarantee personal well-being in different areas (food, cosmetics, health) and environmental sustainability (through agricultural and animal products). BICOSOME, founded in 2012 by a group of scientists specialised in the study of skin tissue, lipid biophysics, lipid structuring and surfactants in the Institute of Advanced Chemistry of Catalonia (IQAC), which depends on the Spanish National Research Council (CSIC)º. It develops and markets high-performance cosmetic and dermo-pharmaceutical ingredients based on a patented platform, Bicosome® technology.
Microalgae are microorganisms that are easy to grow and have a growth rate close to that of bacteria or yeasts, which allows a high productivity in terms of biomass production in a short period of time. Furthermore, they are able to accumulate those compounds with high added value (Astaxanthin and omega-3 fatty acids) under certain environmental conditions.
The project involved building an industrial plant for the cultivation of microalgae in Gijón (Spain), where NEOALGAE is operating with the ultimate aim of extracting omega-3 fatty acids and the antioxidant Astaxanthin. Thanks to them, NEOALGAE has developed a portfolio of products for nutraceutical, cosmetic and dermo-pharmaceutical applications. Within this portfolio, BICOSOME has developed its new products Bicomega and Bicoxanthin which, thanks to its own patented platform, Bicosome® Technology, allows for significant improvements in cosmetic and dermatological applications.
Circular Economy
In the industrial plant in which NEOALGAE is cultivating different species of microalgae, in both fresh and salt water, all the processes for the cultivation and extraction of the high-value compounds, are environmentally sustainable and domotized. Additionally, and following the criteria of what is known as circular economy, waste flow recirculations have been installed and the biomass resulting from the extraction of omega-3s and antioxidants can be used as a co-product in aquaculture. With this new process, the production of Omega-3 and Astaxanthin will not affect marine resources. Both products will be free of contaminants, with no fishy taste or smell, suitable for vegans and with competitive and stable production costs.
Results
Finally, there were developed two exclusive systems capable of incorporating and delivering Omega 3 and Asthaxanthin-rich microalgae extracts into the epidermal layers of the skin in order to obtain superior antioxidant, anti-inflammatory and protective effects. The Bicosoma-Astaxanthin and Bicosoma-Omega 3 products were successfully developed and will be marketed under the Bicoalgae® Xanthin and Bicoalgae® Omega 3 brands to treat skin disorders related to acne, atopic skin and ageing.
The project proved that it was possible to develop skin care products based on high standards of quality, innovation and sustainability. The products developed meet the needs of the growing market in different ways. They are ecological, of natural origin, developed with high technologies of microalgae production and skin release formulation, they are as well stable, safe and highly effective. We hope that these products will become a major breakthrough in the history of both companies and promote a successful long-term partnership.
Connect
⇢ Coordinado por Neoalgae
⇢ Financiado por Horizonte 2020
⇢ Página web del proyecto http://www.vopsaproject.eu/