EUSPA landed in Madrid for World ATM Congress to highlight environmental benefits of EU Space technology to aviation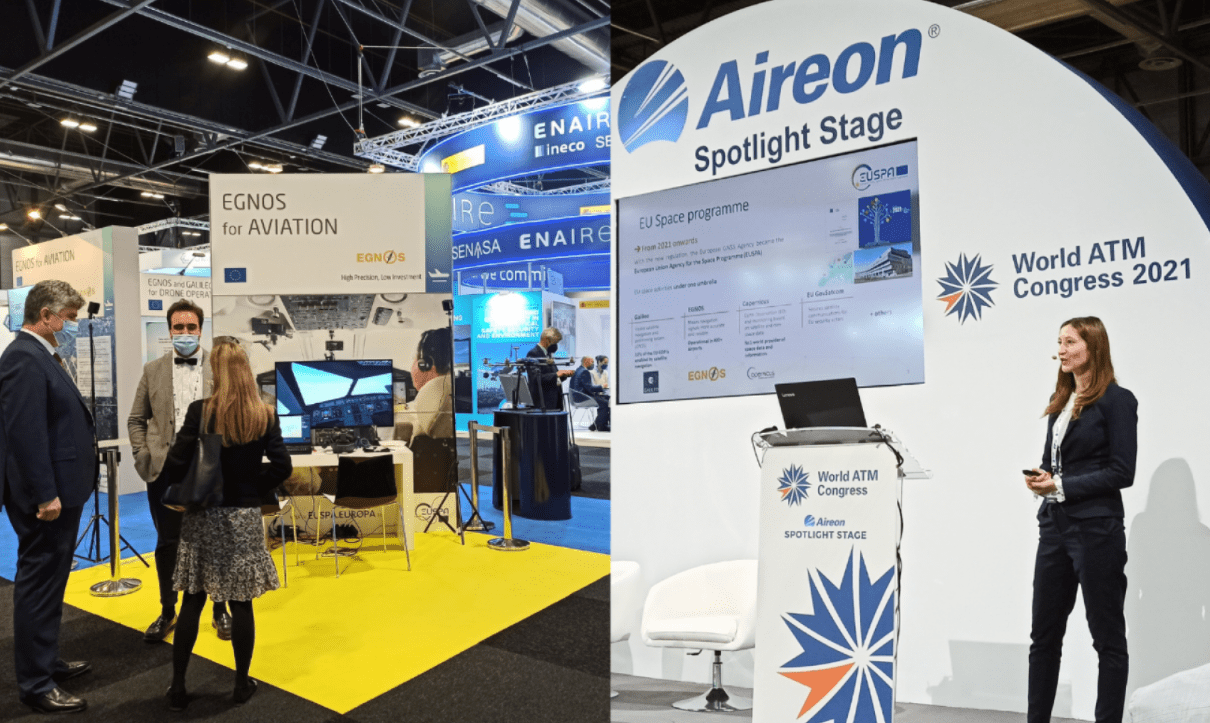 World ATM Congress, the world's largest international air traffic management (ATM) exhibition and conference, is always the place to be for EUSPA. Aviation experts and market development professionals were present to voice the importance of the EU Space Programme in aviation and its contribution to making the industry more sustainable. Drone demos by #MyGalileoDrone winners took place at Cuatro Vientos Airport.
Greener air travel and cost-efficient flight operations were a trending topic at World ATM Congress 2021. Aviation is one of the fastest-growing sources of greenhouse gas emissions. In particular, the aviation sector creates 13.9% of the emissions from transport, making it the second-biggest source of transport greenhouse gas emissions after road transport. In line with the EU Green Deal and to put a lid on aviation emissions, the European Union is placing a great emphasis on space technology. EUSPA aviation expert, Katerina Strelcova, explained how EU space technology contributes to safe and green aviation during a dedicated session.
For greener aviation, #EUspace is essential
Satellite-based landing is becoming the preferred technology for airlines that wish to optimise their routes and fuel consumption. EGNOS allows planes to make flexible approaches towards European airports and therefore shorten the flight path. Thanks to this flexibility, airlines can save up fuel and reduce noise above densely populated areas.
By enabling aircraft to land safely under challenging weather conditions such as fog, EGNOS helps reduce the frequency of aborted landings and emissions. An estimated 20.000 diversions will be avoided EU-wide thanks to EGNOS by 2025.
Copernicus contributes significantly to monitoring the environmental footprint of aviation through the Atmosphere Monitoring Service (CAMS). This service provides consistent and quality-controlled information about air pollution, greenhouse gases, and climate forcing.
Copernicus data is used to measure and monitor aircraft emissions that can enable to reduce climate impact, especially from contrail formation.
Moreover, atmospheric data from Copernicus delivers accurate information about atmospheric conditions that affect aviation, for example, the presence of dust or other particles which may degrade engines. When the data are further combined with AI, it can contribute to analytics for increased efficiency in managing aviation fleets and enhanced data for maintenance purposes. This Copernicus data can bring real added value to the industry.
Safety and accessibility are always a priority
In Europe, more than 400 airports use EGNOS, and the trend is on the rise. The provision of EGNOS approaches offers an alternative to airports not equipped with conventional navigation aids. It increases aviation safety and airport accessibility, especially in remote regions. Accessible airports equal more commercial opportunities for airlines and new flight routes at a regional and international level, with minimum costs for ground infrastructure and its maintenance.
Volcano eruptions -like the recent Cumbre Vieja Spain- significantly disrupt flight traffic, forcing pilots to take longer routes. Volcanic ash ejected into the atmosphere by explosive eruptions has known damaging effects on the aircraft fuselage. The CAMS generate atmosphere analyses to help assess the number of dust & particles which can affect the engine performance.
More information