On February 21st, 2020, the seminar "Plans for Equality. Current situation and future challenges" was held at the University of Almeria, open by Mr. José Luis Rodríguez Zapatero, former President of the Government of Spain, alongside with Mr. Carmelo Rodríguez Torreblanca, Rector of the University of Almería and Dª. Adela Muñoz Páez, Professor of Inorganic Chemistry of the US and President of AMIT − Andalucía.
Access to vídeo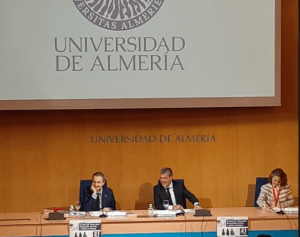 Marina Padilla Almodóvar and Blanca Álvarez Cañas, scholars of the European Documentation Centre covered the event and collected the statements of Mr. José Luis Rodríguez Zapatero, in which he stressed that Spain is the most advanced country in the world in terms of equality.
Current situation in the academic field
Despite the various actions taken to achieve equality between men and women in science and academia, gender inequality continues to exist in Spanish public and private universities and research centers.
The approval of LO 3/2007 of March 22, promulgated during the first government of José Luis Rodríguez Zapatero, whose objective is the achievement of effective equality between women and men, and its subsequent regulatory development, have been of paramount importance in the institutionalization of equality policies in Spanish public universities and research centers.
One of the most relevant initiatives was the creation of the Equality Units from the year 2008. The elapsed time requires an analysis and evaluation of the effectiveness of the initiatives promoted and the current situation.
Objective
The main theme of the day was to analyze how the implementation of the Plans and the creation of the Equality Units have favored the development of equality policies in universities and research centers. It also sought to analyze whether the rigidity of the structures of universities and research centers continue to promote resistance to a structural and institutional change that allows real equality to be achieved.
Situation in the EU
European research still shows a significant insufficient representation of women, particularly in the "pure sciences" and in leadership positions. Highly qualified women in the EU are excluded, which represents a considerable loss of talent. Therefore, gender equality in research is not only about equity, but also necessary to fill the gaps in the EU labor market.
More information