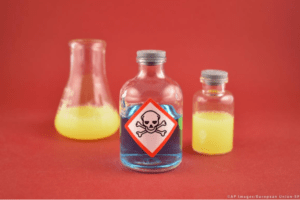 The European Commission has published a review of the EU chemicals legislative framework, which addresses some 40 pieces of sectoral chemicals legislation, including specific rules on chemicals found in pesticides or cosmetics, or rules on the labelling, classification and packaging of chemicals. 
The report, which complements the 2018 review of the EU's REACH Regulation, confirms that the rules in place provide a high level of protection against harmful chemicals for our citizens and the environment and that they contribute to an efficient functioning of the Single Market.
The EU has one of the most comprehensive legal frameworks in the world, which offers a global benchmark for chemical risk management. The EU has already significantly reduced our citizens' exposure to harmful chemicals by banning or restricting the use of certain substances and is continuously looking to limit the risk posed by harmful chemicals. EU chemicals legislation has also been instrumental in ensuring free circulation of substances, mixtures and articles through harmonisation of standards and requirements.
The report also identifies certain areas for improvement in the implementation and application of the rules, including the need for the simplification and streamlining of hazard and risk assessment processes, providing better consumer information, and supporting implementation of the legislation by the Member States. The results of the report will be further discussed on 27-28 June 2019 during a High Level Conference on "EU Chemicals Policy 2030". These discussions will provide valuable input towards a common long-term vision and objectives of EU chemicals policy, in line with Sustainable Development Goals and the New Strategic Agenda 2019-2024 to build a climate-neutral, green, fair and social Europe. The full report can be found here.
 Also, the Commission and the European Chemicals Agency (ECHA) are taking action to make sure that REACH registration dossiers are compliant with EU legal requirements. The new Action Plan launched yesterday envisages a significant increase in the number of compliance checks carried out on registration dossiers.
Background
REACH is the most comprehensive and ambitious chemical legislation in the world. Over the past 12 years, the EU has significantly reduced citizens' exposure to harmful chemicals by requiring industry to provide data and risk management measures to demonstrate the safe use of chemicals in a registration dossier.
According to the second REACH review and other recent reports, a third of REACH registration dossiers do not fully comply with EU standard information requirements. To address this gap, the Commission requested ECHA to identify the main reasons of non-compliance and develop solutions.
For more information
Complete Press release