Women can be crucial facilitators in the integration process. When they have children, they are often multipliers in the areas of education and employment and play an important role as agents for the transfer of values. The positive impact of migrant women' employment on the social outcomes of their children is well documented.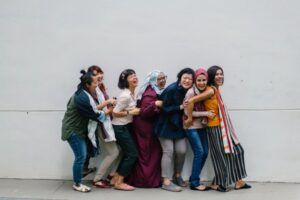 Objectives
Support the economic and social integration of migrant women; more specifically:
support the capacity of migrant women to interact and feel at ease in their social environment and their participation to social and political life at local level and/ or support migrant women moving into work and facilitate their sustainable labour market integration.
In addition, the projects should:
raise awareness among migrant women of their rights, including access to education and work, participation in social, economic and cultural life, protection against gender based violence and access to justice;
raise awareness among public officials and professionals of specific needs and situation of migrant women in access to services;
facilitate the transfer of experience, knowledge and practices within the partners of the project to develop effective actions;
facilitate the dissemination of experience, knowledge and practices beyond the partners of the project, in particular at local and regional level, to develop more effective action targeting migrant women, including those from vulnerable groups;
improve knowledge on how to better support the social and economic integration of migrant women.
Activities
Activities for migrant women co-designed with them to best meet their needs, and designed in a flexible way to facilitate continued participation.
Practical trainings, workshops, mutual learning activities, mentoring schemes, peer group activities aiming at improving social and economic integration of migrant women and transferring and sharing knowledge on successful approaches to support the integration of women.
Outreach and empowering of particularly vulnerable groups of migrant women, for example women with low educational attainment, with limited or no work experience and paying specific attention to how several forms of discrimination can reinforce each other and affect migrant women.
Participants
 All EU Member States, with the exception of Denmark.
Deadline
30 January 2020 at 17:00 Brussels time
More information