Since 1992, the EU has helped alleviate the suffering of millions of people in more than 110 countries worldwide. This is done through the EU's Civil Protection and Humanitarian Aid Operations department, which has funded and promoted humanitarian actions for 30 years.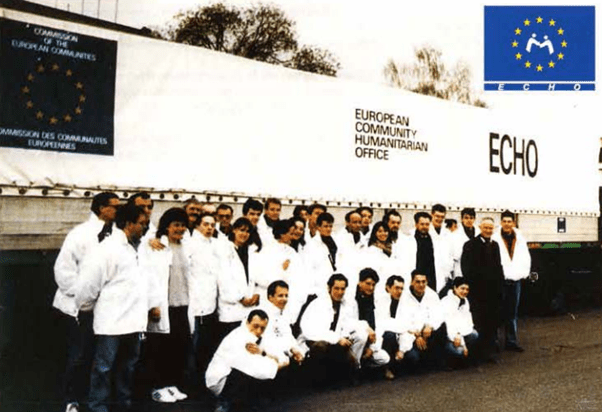 The EU's humanitarian office started its operations in March 1992, when the Kurdish refugee crisis was at its peak, Bangladesh was far from recovering from a deadly tropical cyclone, famine was looming in Africa, and tensions were high in the Balkans.
The different challenges at the time called for an adequate response from the international community, hence the creation of the EU's humanitarian aid office. This way, the EU started to work with humanitarian partners on the ground to provide assistance to those in need.
The EU, together with its Member States, is one of the world's largest humanitarian aid donors.
Working with partners
During its first year of operations, the EU's humanitarian office signed 100 agreements with humanitarian partners. Today, we work with more than 200 humanitarian partners, including European humanitarian non-governmental, international (including United Nations agencies), as well as specialised agencies from Member States.
In only one year, the EU's humanitarian aid department organised more than 900 operations in the former Yugoslavia, the Caucasus, Central Africa, Northern Iraq and Central America. We helped respond to natural hazards and human-induced disasters, as well as supported those affected by conflict and war.
Principles
Since the start of the EU humanitarian aid operations, the Commission's department has been following the humanitarian principles of humanity, neutrality, impartiality and independence.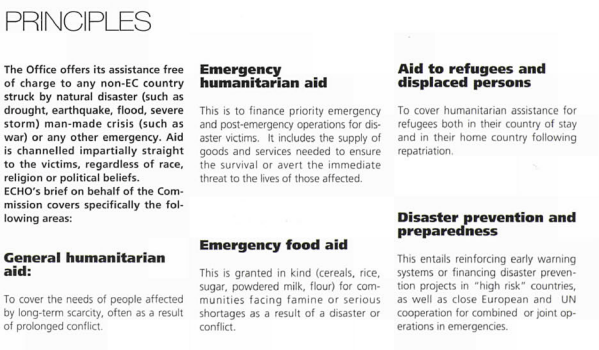 More information: European Commission – Press release