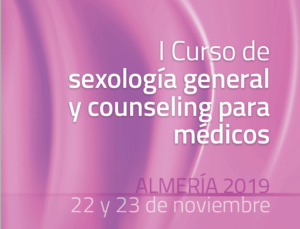 On November 22 and 23, the "I Course of General Sexology and Counseling for Physicians" will be held at the University of Almeria, organized by the Spanish Society of Regenerative and Functional Aesthetic Gynecology (SEGERF) and sponsored by the Spanish Federation of Societies of Sexology (FESS) and the Spanish Society of Intervention in Sexology (SEIS), in which the European Documentation Centre collaborates.
Attendance at this activity will be considered and certified by the International Doctoral School as a Training Activity and may be taken into account as such, at the discretion of the Commission Academic of the corresponding Doctorate Program.
The course will consist of four round tables for presentations and discussion, as well as practical workshops.
The round tables will focus on:
Introduction to sexology
Female sexual dysfunctions
Diversities
Intervention tools
For more information