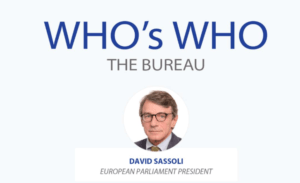 MEPs elected the Parliament president as well as vice-presidents and quaestors in July 2019. Find out from our infographic who was chosen for Parliament's key posts.
Together with the Parliament president, vice-presidents and quaestors make up the bureau, which takes decisions on matters of internal organisation for the institution. While the president oversees all Parliament's work and represents it in all legal matters and external relations, he may delegate some duties to vice-presidents. They can also replace him when chairing plenary sessions. Quaestors deal with financial and administrative matters that concern MEPs.
All of these posts are only for two-and-a-half years so MEPs vote for a president, vice-presidents and quaestors at the beginning of each parliamentary term and again at mid-term.
Election of the President of the Commission
The plenary session on 15-18 July marks the first opportunity for Parliament to elect the new President of the European Commission. 
Before the election, the candidate presents his or her political agenda and priorities for the next five years to Parliament. To be elected President, the candidate needs the support of an absolute majority of MEPs, thus obtaining democratic legitimacy directly from elected MEPs.
Commissioners-designate hearings
The public hearings are set to take place in September and October. The Council, in agreement with the Commission President-elect and based on suggestions from EU countries, adopts a list of candidate commissioners. These commissioners-designate appear before parliamentary committees in their prospective fields of responsibility and will face a lengthy public and transparent questioning on their competence and suitability for the position by the recently elected MEPs.